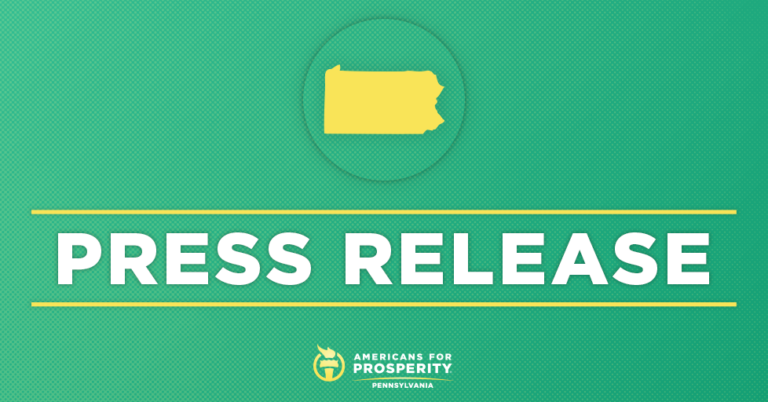 Americans for Prosperity Urges Defeat of Conor Lamb in PA-18 With New Investment
Direct mail, grassroots to educate Pennsylvanians on Lamb's agenda
HARRISBURG, Pa. – Americans for Prosperity-Pennsylvania (AFP-PA) on Friday announced a new effort to urge Pennsylvanians to vote against Conor Lamb in the special election for the 18th Congressional District on March 13th. The effort includes direct mail and grassroots activities that highlight Lamb's agenda as having more in common with Nancy Pelosi than the values of southwest Pennsylvania.
VIEW SAMPLE MAIL PIECE HERE:
AFP-PA State Director Beth Anne Mumford issued the following statement:
"We can't afford Conor. A vote for Conor Lamb is a vote for Nancy Pelosi's liberal agenda. Like Pelosi, Lamb has criticized the historic tax reform legislation that is already putting more money back into the pockets of hard-working Pennsylvanians.
"Southwest Pennsylvania has a lot to offer and Pennsylvanians feel like we're finally turning the corner because of tax reform, but Conor Lamb's out-of-touch agenda threatens to reverse that progress. Conor Lamb won't work for the people of southwest Pennsylvania, and we encourage folks to reject him."
Lamb Was Critical Of The Republican Tax Reform Package Claiming It Does Not Address The District's Issues.
Lamb Said That The Republican Tax Cut Bill Does Not "Address Any Of The Real Problems That We Have In This District." " On issues such as the Trump-backed Republican tax bill Congress passed this week, however, he figures to be a strident voice. 'I don't see how it addresses any of the real problems that we have in this district,' Mr. Lamb said, citing the need to address crumbling infrastructure and opioid addiction." (Chris Potter, "Lamb, Saccone Both Hope For Blue-Collar Support In Special Congressional Election," Pittsburgh Post-Gazette, 12/22/17)
Despite This Claim, Lamb Acknowledges The Bill Gives A Tax Cut To Most Middle Class Families. "The tax bill makes it harder to solve them by adding a trillion dollars in debt.' While most middle-class families may expect a tax cut in the bill's early years, he said, 'most of it goes to corporations and the wealthy.'" (Chris Potter, "Lamb, Saccone Both Hope For Blue-Collar Support In Special Congressional Election," Pittsburgh Post-Gazette, 12/22/17)
For further information or an interview, reach Lorenz Isidro at LIsidro@afphq.org or 703.887.7724 
Americans for Prosperity (AFP) exists to recruit, educate, and mobilize citizens in support of the policies and goals of a free society at the local, state, and federal level, helping every American live their dream – especially the least fortunate. AFP has more than 3.2 million activists across the nation, a local infrastructure that includes 36 state chapters, and has received financial support from more than 100,000 Americans in all 50 states. For more information, visit www.americansforprosperity.org
###