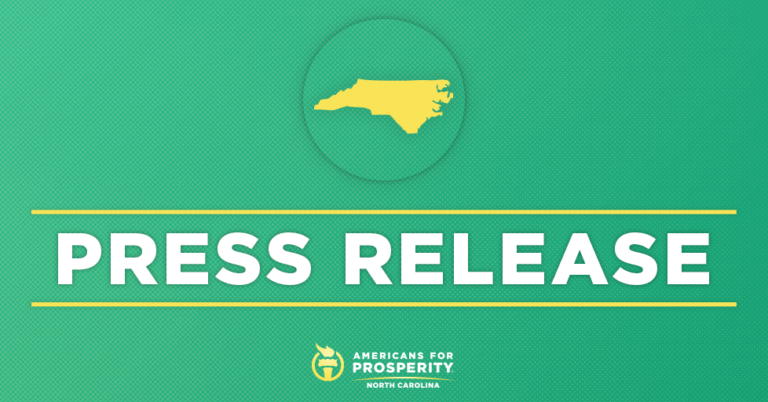 Americans for Prosperity Thanks Donald Bryson for Service as North Carolina State Director
Bryson to take role as President and CEO of Civitas following six years with AFP
RALEIGH, NC – Americans for Prosperity today announced that North Carolina State Director Donald Bryson will be leaving from the organization to become President and CEO of the Civitas Institute. The Civitas Institute is a Raleigh-based nonprofit policy organization that fights to remove barriers to freedom so that all North Carolinians can enjoy a better life.
"Donald has been an effective grassroots leader, true advocate all North Carolinians, and trusted friend to all throughout his tenure at AFP," said Chase Downham, Vice President of State Operations. "We thank Donald for his service and congratulate him on his new position at the Civitas Institute, where he'll be able to continue his commitment to removing barriers to freedom so that all North Carolinians can enjoy more opportunities to succeed."
"It has been an honor to be a part of the Americans for Prosperity family and I am proud of the accomplishments our activists and staff have achieved in their fight for a more free an open society. Grassroots activism was a core driver of state policy changes that produced the 'Carolina Comeback' our economy has experienced the last six years, and that local leadership will continue to be the force that drives positive cultural change in years to come," said Bryson. "I look forward to build on this experience to help improve the lives of North Carolinians as President and CEO of the Civitas Institute.  Most importantly, I'd like to thank the activists who made Americans for Prosperity so successful in the fight for lower taxes, less government regulation, and economic prosperity."
Deputy State Director Anna Beavon Gravely will be serving as interim state director.
For further information or an interview, reach Lorenz Isidro at LIsidro@afphq.org or (703) 887-7724. 
Americans for Prosperity (AFP) exists to recruit, educate, and mobilize citizens in support of the policies and goals of a free society at the local, state, and federal level, helping every American live their dream – especially the least fortunate. AFP has more than 3.2 million activists across the nation, a local infrastructure that includes 36 state chapters, and has received financial support from more than 100,000 Americans in all 50 states. For more information, visit www.americansforprosperity.org
###