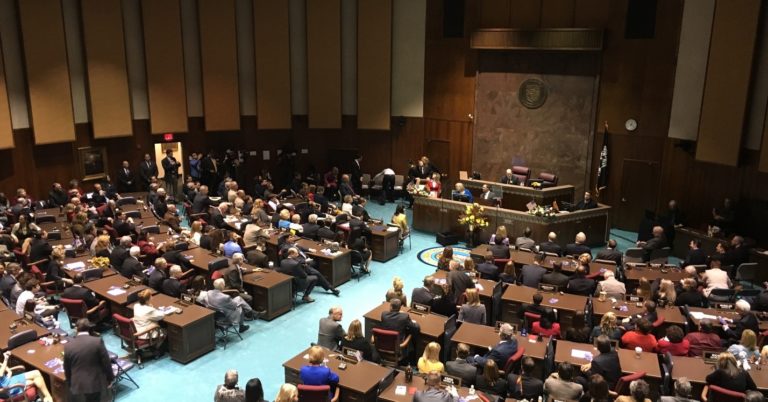 Americans for Prosperity Arizona 2018 State Legislative Agenda
Click on the link below for a printable PDF version of AFP-Arizona's 2018 Legislative Agenda and Scorecard scoring rubric (updated 03/15/2018)
AFP-Arizona will improve the well-being of Arizona citizens by passing legislative policy reforms that expand economic freedom. The 2018 scorecard will be the 35th annual scorecard put out by AFP-Arizona and the Arizona Federation of Taxpayers.  The scorecard assigns weights to bills according to their projected dollar impact to Arizona taxpayers, consumers, and producers ($1 million equals one point). Grassroots taxpayer activists can help us greatly by reminding returning legislators and newly elected legislators that we will hold them strictly accountable in 2018.  As in 2009-2017, the designations for the 2018 Legislative Scorecard will be as follows:
90-100% = Hero of the Taxpayer
80-89% = Champion of the Taxpayer
70-79% = Friend of the Taxpayer
60-69% = Not Bad
50-59% = Needs Improvement
30-49% = Friend of Big Government
10-29% = Champion of Big Government
0-9% = Hero of Big Government
State Legislative Agenda – 2018 Session  (Updated 03/15/2018)
1)     (MUST-VOTE)   Pass a Responsible Balanced Budget (Slower Growth than Population + Inflation)  Target: $10.18 billion or lower
2)     (MUST-VOTE)   Protect Arizona's School Choice Programs, including Education Savings Accounts
3)    (MUST-VOTE)   Protect Entrepreneurs from Occupational Licensing, Burdensome Regulations
4)    (MUST-VOTE)   Reduce Arizona's Job-Killing Personal and Corporate Income Tax Burdens 
5)    Defend & Strengthen Arizona's Prop 108 Protections Against Tax & Fee Hikes
6)     (MUST-VOTE)   Pass the Truth-in-Spending Budget Transparency Bill    
7)     (MUST-VOTE)    Require Greater Transparency in School District Override & Bond Ballot Pamphlets
8)     Enact Pro-Consumer Free-Market Health Care & Insurance Reforms — including Passing Dental Therapy (MUST-VOTE)
9)   Worker Freedom: Pass Paycheck Protection for Teachers and Taxpayers
10)    Provide Homeowner & Business Property Tax Relief, Reform GPLETs, Block Gas Tax Hikes
11)    Use State and Local Public-Private Partnerships to Save Taxpayers Money and Provide Greater Service to Customers
12)   Repeal and Prevent Corporate-Welfare Subsidies, Tax Credits & Loan Guarantees
13)   Make the Pension Plan for Elected Officials (EORP) Actuarially Sound
14)   Block a Prop 301 Extension; Focus More of Available K-12 District School Resources in Classrooms
15)     Protect Free Political Speech & Donor Privacy for Individuals & Organizations
16)    Protect Electrical Consumers from Environmental Rate Hikes and Power Outages
17)   (Federal/State)   Fight Federal Land Mismanagement & Land Grabs
AFP-AZ thanks its activists, coalition partners and allied Legislators for their assistance in developing this agenda.  Longer-term objectives beyond 2018 include: instituting a firm state spending limit; eliminating state income taxes; creating a personal use education tax credit for parents; fully voucherizing higher education; allowing Arizona employees to direct retirement withholding into their own personal savings accounts; enacting sensible pro-business and pro-consumer tort reforms; allowing full consumer freedom in health insurance plans; and, using long-term private concessions to build new freeway capacity and other infrastructure.