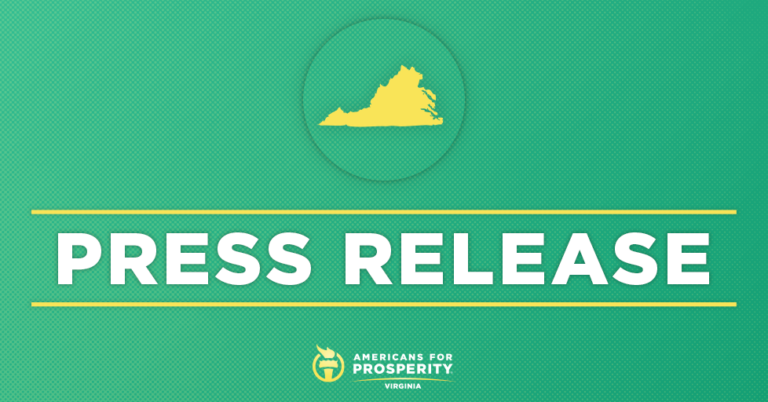 Americans for Prosperity Virginia Comments on Youngkin Plan to Increase Educational Opportunities
Richmond, VA – Today, Americans for Prosperity Virginia applauded Governor Youngkin's morning announcements on Virginia's decline in NAEP scoring, announcing a seven-step plan to immediately increase educational opportunities. Legislative Director Benjamin Knotts released the following statement:"As Gov. Youngkin mentioned today, the NAEP scores show Virginia's education system has been in a steady decline since 2017.  After the pandemic, Virginia is at a near record low for literacy and mathematics among key age groups. In spite of this, school divisions are sitting on over $2 billion of federal funds that were supposed to be spent on education recovery when Congress passed the CARES Act and the American Rescue Plan. Congress sent this relief to help families address substantial losses to education but these divisions haven't acted. Instead of squatting on these resources, it's about time parents were empowered to more directly help their children recover from learning loss."Gov. Youngkin has taken steps that will both increase the resources parents have to educate their children and increase the supply of educators both inside and outside the public school system. With more resources and options, parents will be able to help address the needs of their child's education. We have supported measures like this for the past two years, and we are grateful today to see them enacted.  These actions will give parents a few more options for their child to have the best education possible, but there is still far more work that needs to be done. 
"Ultimately, Virginia's education system needs reforms that will broadly diversify the opportunities parents have to choose from.  This is why Americans for Prosperity Virginia will continue to advocate for Education Success Accounts. This reform will empower parents and open doors for children desperately in need of better educational opportunities – such as those most behind in their classes or at risk within an unforgiving school to prison pipeline."Background: 
The NAEP Report can be found here: https://www.nationsreportcard.gov/In 2021, while Virginians were suffering from school shutdowns, Americans for Prosperity Virginia lobbied for a budget amendment in the General Assembly. This amendment would have ensured unspent federal funding from the CARES Act, specific to addressing learning loss, was provided directly to parents to assist in the education emergency. Our proposal would have given parents the resources to directly educate their child to make up for the losses suffered by the shutdown. This proposal was rejected.  
Earlier this year, Senator Steve Newman proposed an amendment to Virginia's budget that would have directed unspent Federal Funds for Learning Loss from the CARES Act and the American Rescue Plan be used to provide education relief funding to parents across Virginia. Americans for Prosperity Virginia brought volunteers from across the Commonwealth to lobby in support. 

Earlier this month in Lynchburg, we rallied with over 200 activists alongside Lt. Governor Winsome Earle-Sears, Senator Mark Peake, Delegate Wendell Walker, and the Virginia Education Opportunity Alliance for Education for Success Accounts which will be introduced in the 2023 session.