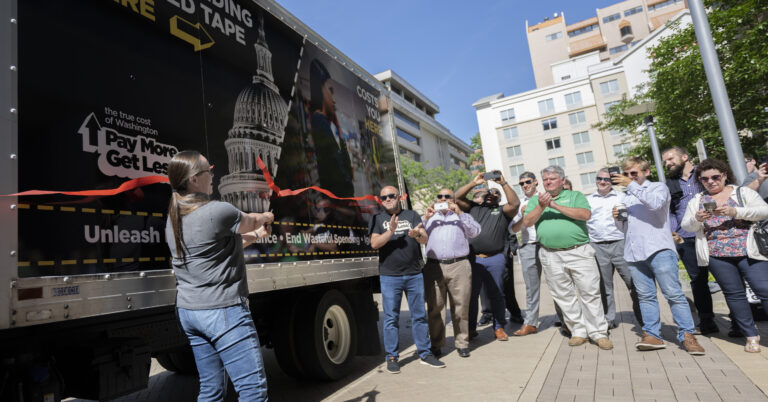 Americans for Prosperity Takes Inflation Plea to Capitol Hill, Kicks Off "True Cost of Washington" Bus Tour
Arlington, VA –Grassroots activists from 35 states, in an event organized by the non-partisan and non-profit Americans for Prosperity (AFP), embarked on Capitol Hill this week with a critical message for lawmakers: inflation is choking American families, and current government policies are a big part of the cause.
As a key part of AFP's "True Cost" campaign, 60 state directors and deputy directors held more than 150 meetings with Hill offices over the course of three days. The group was equipped with numbers and policy prescriptions to tame the soaring cost of living that is by far the No. 1 concern for American families this election cycle.
"There is finally universal acknowledgment in Washington that inflation is real and massively problematic, and that took longer than it should have," said AFP Chief Government Affairs Officer Brent Gardner. "The next crucial step is getting lawmakers to understand the core causes and the real solutions. That understanding has not yet arrived, and working Americans can't afford to wait, so we're urgently taking the case to Congress."
The numbers facing U.S. households are appalling: real wages are down 2.6 percent in the last year, with inflation costing households an extra $430 each month – essentially an added tax of $5,200 per household this year. Eighty-three percent of Americans say they are experiencing greater hardship due to rising prices.
AFP delivered a policy recipe to lawmakers this week through the "Empowering People, Emerging Stronger" legislative initiatives that would definitely, and immediately, solve problems for the American people by:
Building a Thriving Economy
Restoring Congress' Policymaking Leadership
Providing a Personal Option for Health Care
Ending a Failed Approach to Addiction and Substance Use
Strengthening and Modernizing America's Immigration System
Following this effort, AFP kicked off it's 90-day "True Cost of Washington" Bus Tour that will have stops in over 100 cities. The organization will connect with everyday Americans on grassroots solutions to solve the most pressing economic problems facing our country today including skyrocketing inflation and staggering gas prices.
"Energy, labor and housing regulations, coupled with protectionist trade policies, have been longtime parts of the playbook for many members of Congress," Gardner said. "Those sound wonderful to a progressive base, but they have created a miserable reality for an overwhelming majority of Americans. "Government is not known for adapting quickly to changing reality, but U.S. households desperately need momentum to build quickly for the policies that will bring down prices."
To learn more, visit TheTrueCostofWashington.com.
###