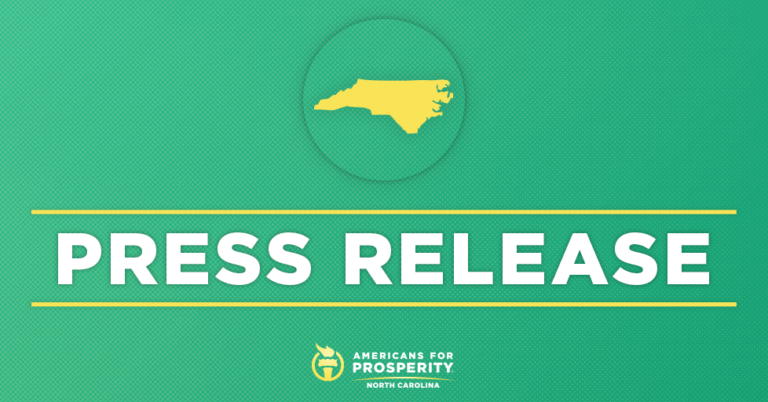 Americans for Prosperity Names Members of the North Carolina Delegation as "Pioneers for Prosperity"
Raleigh, North Carolina—Four North Carolina Lawmakers were among 73 members of Congress to receive the inaugural "Pioneer for Prosperity" Awards from the nation's largest grassroots organization, Americans for Prosperity (AFP).
Pioneers for Prosperity are lawmakers who served as policy champions in the 117th Congress, actively opposing bad ideas and proactively offering principled solutions to the nation's most-pressing issues.
Reps. Ted Budd (NC-13), Virginia Foxx (NC-05), Richard Hudson (NC-09) and Patrick McHenry (NC-10) were among lawmakers who stood against wrong-headed legislation like the Infrastructure Investment and Jobs Act, the corporate welfare CHIPS Act, and the so-called Inflation Reduction Act. They all advance policy solutions on government spending, domestic energy production, protecting worker freedom, and expanding health care choices.
"North Carolina has amazing champions in all four of these lawmakers," said AFP-North Carolina Deputy Director Tyler Voigt. "North Carolinians can depend on these representatives—and now Senator Budd—to look out for their best interests—not special interests. By taking difficult votes and introducing solution-oriented legislation these lawmakers have demonstrated what real leadership looks like in Washington."
"A 'Pioneer for Prosperity' is someone who goes beyond just lining up and voting the right way on each piece of legislation," said Akash Chougule, Vice President at Americans for Prosperity. "They champion policy solutions, build winning coalitions, advocate passionately for their principles, and do what's right even when it's politically difficult. Leadership doesn't always show up in a roll call or a scorecard, and in the 117th Congress – with a number of harmful bills to stand against and better alternatives to fight for – these individuals stood for freedom and opportunity for all Americans."
AFP tracks a wide range of issues presented to Congress and how lawmakers respond, whether that's drafting or co-sponsoring legislation, working behind the scenes to build support, advocating back home and in Washington, DC, for their views, or standing up to powerful voices on the wrong side of the debate.
See the full list of Pioneers for Prosperity here.
-###-