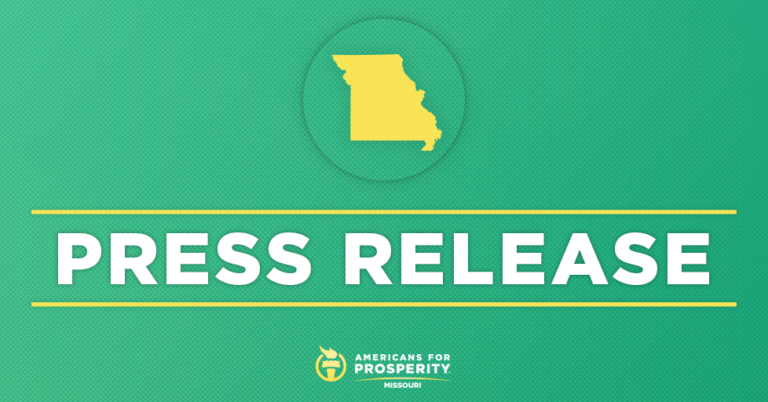 Americans for Prosperity Missouri Announces Endorsements for State Legislature
JEFFERSON CITY, MO – Americans for Prosperity-Missouri (AFP-MO) today announced its endorsement of nine candidates running for the Missouri state House and Senate. These candidates earned the endorsement of AFP-MO through their support for principled policy solutions that seek to increase opportunity for every Missourian.
AFP-MO will use its signature grassroots–among other tactics such as direct-mail and digital advertisements–to reach voters and encourage them to vote for these principled candidates.
AFP-MO State Director Jeremy Cady issued the following statement:
"We're proud to endorse these candidates for the state legislature who will fight for the policies that help every Missourian succeed. With our economy and thousands of Missourian families struggling, we need policy champions at the state capitol who will ensure our government stays within its means – as every Missouri family is forced to do – and help keep more money in our pockets. These candidates will help bring necessary policy solutions that address our state's biggest issues."
AFP-MO is proud to endorse the following candidates:
Representative Holly Rehder (SD-27): From her support of health care reform to allowing for more educational opportunity for students and families, Representative Holly Rehder has been an advocate for freedom and prosperity during her tenure in the House. She scored a 100% on American for Prosperity's 2019 scorecard and has been a leader in expanding opportunities for workers across the state.
Representative Robert Ross (SD-33): As chairman of the Committee of Occupational Licensing and Registration, Rep. Ross has worked to reduce the number of government restrictions that act as a barrier to Missourians earning a living.
Chris Beyer (HD-62): Chris Beyer understands the importance of increasing educational opportunities for Missouri families and students, and the need to balance our state's budget. We have no doubt his work will help ensure the fiscal stability of the state of Missouri and empower Missouri students with more educational freedom that builds a foundation to help them succeed.
Jaret Holden (HD-143): Jaret Holden understands the need to reform health care. Getting government barriers out of the way will help increase access to affordable and effective care, especially in rural Missouri. Holden will work to remove the many barriers health care professionals face so Missourians can access the care they need, when they need it most.
Tina Goodrick (HD-09): Tina Goodrick supports more educational opportunities for Missouri students. She'll work to protect us from the rapid expansion of government and the high price tags that comes with it, keeping our taxes low and removing red tape that makes it harder for our jobs and businesses to recover.
Larry Kimbrow (HD-153): Larry Kimbrow knows the importance of keeping taxes low. He'll work to ensure Missourians keep more of their hard-earned paychecks and rein in wasteful government spending. Missourians should keep more of what they earn and Kimbrow will help them do so.
Will Perry (HD-148): Will Perry is a leader who will work to reduce red tape that sinks many businesses in Missouri. He'll work to give businesses more opportunity to create jobs and expand.
Richard West (HD-63): As a former law enforcement officer, Richard West understands the importance of leadership in our community and the need for smart-on crime reforms to our justice system. As a small business owner, West also understands the need to reduce government red tape and to keep our taxes low. West will work to expand opportunity for Missourians by removing government barriers to make it easier for businesses to create jobs and grow.
Bryant Wolfin (HD-116): As a small business owner, Bryant Wolfin understands the burdens government places on businesses. If elected, Wolfin will work to create an environment that makes it easier for businesses to grow and create jobs, giving Missourians the opportunity to chase their American Dream.
PAID FOR BY AMERICANS FOR PROSPERITY, EMILY SEIDEL, CHIEF EXECUTIVE OFFICER, PO BOX 94 JEFFERSON CITY, MO 65102, NOT AUTHORIZED BY A CANDIDATE.
For further information or an interview, reach Kevin Brinegar at kbrinegar@afphq.org.