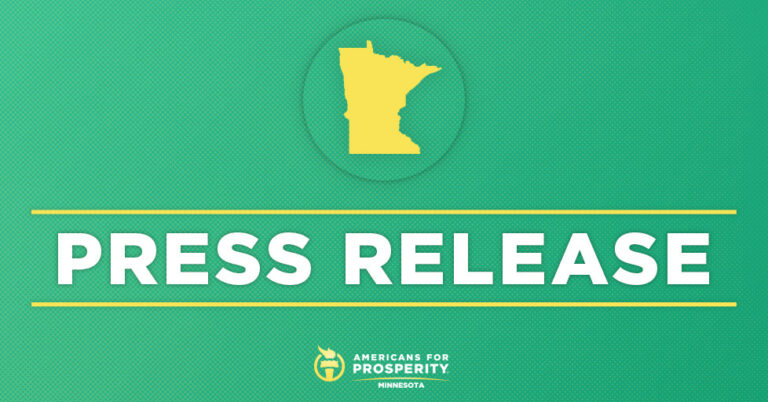 Americans for Prosperity-Minnesota Raises Concerns with Mounting Debt Levels
ST. PAUL, MN – Americans for Prosperity-Minnesota (AFP-MN) today raised concerns about the state's growing levels of debt following the passage of an $825 million borrowing bill by the House of Representatives. The Legislature just passed a nearly billion dollar borrowing package last session, and traditionally a bonding bill of that size is only considered every other year. AFP-MN sent all House members a letter expressing their concern with the irresponsible spending plan.
"Lawmakers need to recognize that our debt is growing at an unsustainable level and is threatening to overburden Minnesota taxpayers," said Jason Flohrs, AFP-MN State Director. "It's irresponsible. Legislators should remember they are borrowing taxpayers' money and be more prudent in how they spend it. If not, future Minnesotans will be left on the hook for today's wasteful spending decisions."
"The bonding bill should be solely focused on long-term improvements that address core infrastructure needs of truly statewide significance at a level that doesn't max out the state's credit card," Flohrs added. "With a projected budget surplus, we should be focused on paying down our debt – not adding to it. Families and businesses have to manage their debt responsibly, and government should be held to the same standard."
Background:
In order to get government borrowing under control, AFP-MN has supported a bi-partisan proposal (HF1323/SF1112) to establish a cap for debt payments related to state capital investment borrowing.
In the current biennium alone, Minnesota is projected to pay over $1.5 billion in debt service payments. This proposed debt limit would complement existing guidelines related to total debt, while also focusing on the state's year to year ability to pay its other obligations.
The proposal would cap state payments on borrowing at a fixed percentage of the state's General Fund revenue, ensuring Minnesota's creditworthiness and ability to borrow for future generations.
Minnesota is constitutionally required to have a balanced budget, which more often than not in recent years has required a special session to resolve. Despite that requirement, the state currently has more than $11 billion in state bonds outstanding or authorized, nearly 2.5 times as much total debt as Minnesota had in 2006. Even more concerning, debt service on these bonds is one of the fastest growing portions of the state budget, crowding out ongoing investment in other priorities like education, transportation projects, and additional relief for taxpayers.
For further information or an interview, reach Jason Flohrs at JFlohrs@afphq.org. 
###