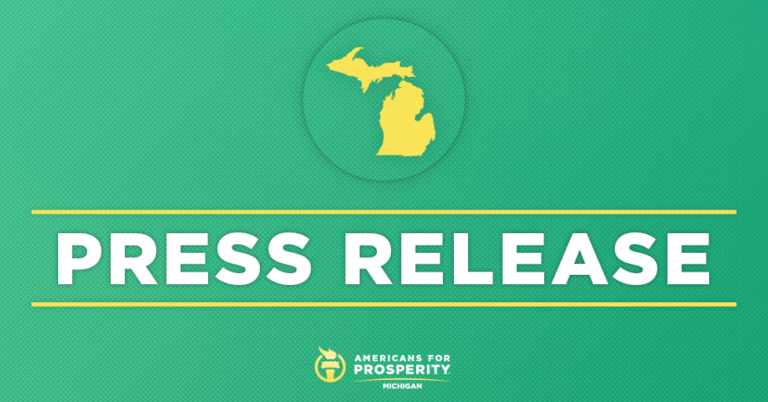 Americans for Prosperity-Michigan Activists Rally Against Biden's Spending Policies In Howell
Grassroots activists are ready to hold Representatives Elissa Slotkin and Haley Stevens accountable for voting against the best interests of their constituents 
LANSING, Mich. — Grassroots activists with the Michigan chapter of Americans for Prosperity are rallying and making their voices heard loudly at the President's visit to Howell, Mich. today. The group, and its numerous activists, handed out pulled pork sandwiches, brought their "End Washington Waste" pig to the event, and welcomed the President's motorcade with a series of five signs along the route that read: Biden's Spending. Hurts Our Nation. Higher Taxes. More Inflation. #StopTheSpendingSpree.
Annie Patnaude, state director of AFP-Michigan, made the following statement:  
"Unfortunately, it appears that Representative Elissa Slotkin is prepared to support President Biden's radical spending policies that will raise taxes by trillions of dollars, increase inflationary pressure on families and small businesses, and allow government to take over our economy.
"We've had thousands of conversations at the doors about President Biden's spending spree. It's clear that Michigan families in Rep. Elissa Slotkin's district are worried about the direction of our country, the pressure of rising prices, and the threat to our economy from trillions in higher taxes.
"We've heard firsthand how Washington's economic policies have done harm to our families and small business owners. Our activists are prepared to hold Representative Slotkin accountable for her support of President Biden's radical spending policies that will do further harm to our economic future as a state and a nation."
In a Crain's Detroit Business opinion piece co-authored with State Senator Aric Nesbitt, Patnaude explained how the policies will hit Michigan with a one-two punch that includes giveaways to green energy and Big Labor bosses, and higher taxes that will hurt job creators. The group has also held dozens of events in Congresswoman Elissa Slotkin's district, and made 30 stops across the state with their giant "End Washington Waste" pig.
Doors, phones and earned media are just one layer of AFP's robust, highly targeted seven figure "Stop the Spending Spree" national campaign. With swing votes in the House of Representatives, such as Rep. Elissa Slotkin, the grassroots organization has also hosted numerous in-person events, dropped targeted direct mail, run digital ads, and utilized citizen-to-citizen outreach to encourage constituents to reach their representative in Washington to oppose the proposal.