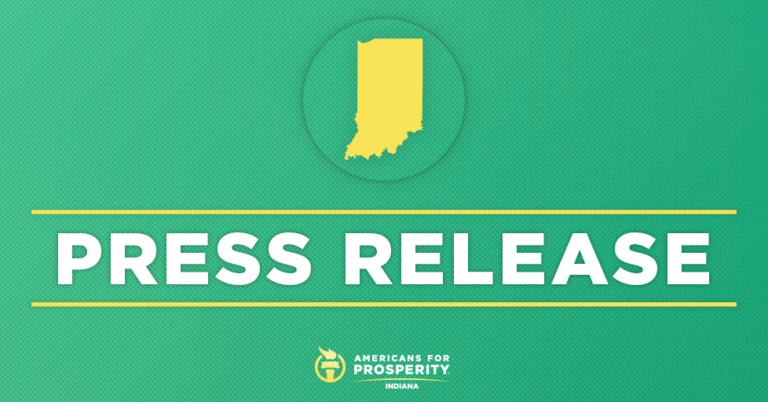 Americans for Prosperity Launches Second Wave of State Legislative Endorsements
INDIANAPOLIS, IN – Americans for Prosperity-Indiana (AFP-IN) today announced its endorsement of 5 additional candidates running for the Indiana State Legislature: Fred Glynn (HD-32), Scott Hawkins (HD-71), Tyler Johnson (SD-14), Spencer Deery (SD-23), and Shane Weist (HD-41.) Each candidate earned the support of AFP-IN through championing principled policy solutions to tackle the greatest challenges facing Hoosiers today.
AFP-IN plans to leverage the full weight of its grassroots activists, among other tactics, to urge voters to elect these strong candidates.
AFP-IN State Director Josh Webb issued the following statement:
"We are excited to throw our full support behind these exceptional candidates and we're confident that their leadership will help take Indiana to the next level. These candidates have demonstrated their commitment to removing barriers to help increase opportunity for every Hoosier – from improving economic growth, to expanding educational opportunities, and increasing access to quality, affordable health care. Our activists are ready to mobilize and encourage voters to support these principled candidates."
Fred Glynn (HD-32):
Fred Glynn is a long-time grassroots activist who, if elected, will help drive transformational policy change in Indiana. In addition to supporting greater educational opportunities, Glynn, a fiscal hawk, will champion responsible government spending and real tax reform that will allow families to keep more of what they earn.
Scott Hawkins (HD-71):
Scott Hawkins is committed to ensuring Indiana adopts a fiscally responsible budget and supports reining in spending to increase government transparency and accountability. In office, Hawkins will also fight to reduce burdensome regulations preventing individuals and small business from thriving.
Tyler Johnson (SD-14):
As a medical professional, Dr. Tyer Johnson understands the very real health care challenges Hoosiers face every day. His unique perspective will allow him to lead the way toward quality, patient-centered health care at a price families can afford. In office, Dr. Johnson will also fight to increase educational opportunities that empower all students and families.
Spencer Deery (SD-23): 
Spencer Deery is committed to improving the lives of all Hoosiers. In office, Deery will support legislation that increases educational opportunities that allow Indiana students to learn in an environment that meets their needs, improves access to quality, affordable health care, and policies that eliminate wasteful government spending.
Shane Weist (HD-41):
Long involved in the Lafayette community, Shane Weist understands the biggest issues facing Indiana families. Weist is a vocal advocate of expanding educational opportunities, better health care, and strong fiscal policies that will help reduce government waste to keep more money in taxpayers' pockets.
Background:
Americans for Prosperity-Indiana Announces 2022 State Legislative Endorsements, 2/22/2022