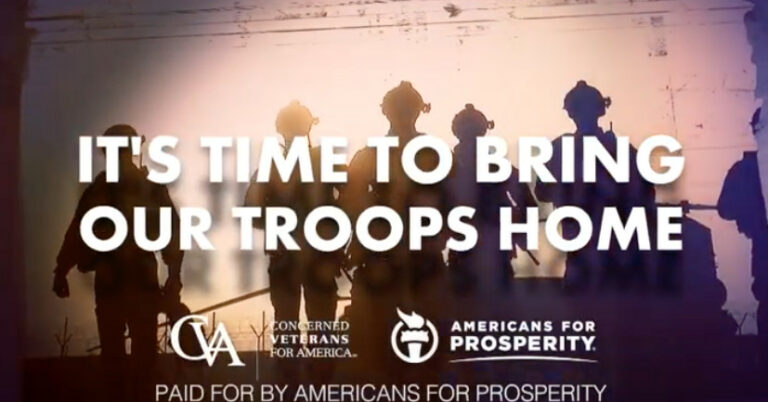 Americans for Prosperity and Concerned Veterans for America Launch Television Ad Campaign to End Endless Wars
Grassroots groups team up for first-of-its-kind partnership on foreign policy.
Arlington, VA – Americans for Prosperity (AFP) and Concerned Veterans for America (CVA) announced Wednesday a six-figure television ad campaign dedicated to ending endless wars. The co-branded television ad effort marks the first time the grassroots groups have partnered to advance shared goals in the foreign policy space. The ad will run for two weeks nationally on cable and broadcast outlets and will direct viewers to EndEndlessWars.com, where they can sign a petition supporting a full withdrawal of troops from Afghanistan. The campaign comes alongside a growing public engagement around ending the forever wars, and recent polling showing that the majority of Americans want to leave Afghanistan.
Americans for Prosperity President Tim Phillips issued the following statement:
"AFP is proud to stand with our grassroots partners at Concerned Veterans for America to advance our shared goal to end endless wars. National security is the most important function of our government and is the key to safeguarding American prosperity. The 18-year war in Afghanistan continues to cost precious lives and is exacerbating our nation's fiscal crisis. President Trump is right to pursue his promise to withdraw troops from Afghanistan. We need to focus our foreign policy on what is necessary to keep America safe, prosperous and free. Today, AFP is putting the full force of our grassroots behind our shared mission of ending endless wars."
A reformed foreign policy, particularly the withdrawal of troops from Afghanistan, is one of the major focuses of CVA's recent Honor Their Sacrifice campaign, an issue advocacy effort aimed at honoring the sacrifices of veterans through policy change.  The campaign seeks to honor the sacrifices of our nation's veterans by advocating for policies that will make our nation safer. These efforts, combined with the newly launched television ad, mark over $500,000 pledged to ending endless wars between the two organizations.
CVA Executive Director, Nate Anderson, had this to say about the co-branded effort:
"It is imperative that we stand up for policies that ensure American security and prosperity, but a continued presence in Afghanistan no longer serves the United States' interests. A full and speedy withdrawal from Afghanistan is supported by a solid majority of veterans and military families, and it will allow the United States to refocus our resources on more pressing national security concerns. CVA supports an end to our involvement in this conflict, and we are proud to stand with our partner Americans for Prosperity to advocate for these shared goals and put the full force of our grassroots army behind ending endless wars."
Ad Script:
"GREAT NATIONS DON'T FIGHT ENDLESS WARS."
BUT AFTER 18 YEARS OF CONFLICT
"Now nearing the end of a second decade of fighting in Afghanistan…"
"More than 2,300 Americans have been killed…"
"The war has cost the U.S. about 45 billion dollars every year we've been in it…"
IT'S TIME WE END IT
IT'S TIME TO BRING OUR TROOPS HOME
GO TO EndEndlessWars.com TO LEARN MORE.
For further information or to set up an interview, please send an email to GCipriano@afphq.org.
Through broad-based grassroots outreach, Americans for Prosperity (AFP) is driving long-term solutions to the country's biggest problems. AFP activists engage friends and neighbors on key issues and encourage them to take an active role in building a culture of mutual benefit, where people succeed by helping one another. AFP recruits and unites activists in 35 states behind a common goal of advancing policies that will help people improve their lives. For more information, visit www.americansforprosperity.org
###