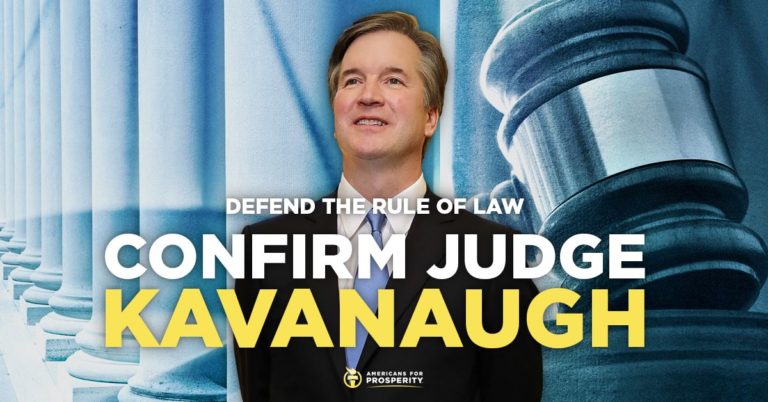 Americans for Prosperity – Alaska's Letter to Sen. Murkowski on Judge Kavanaugh's Nomination
Read our letter to Senator Lisa Murkowski below, and click here to ask her to support Judge Brett Kavanaugh's nomination to the Supreme Court!
The Honorable Lisa Murkowski
522 Hart Office Senate Building
Washington, DC 20510
Dear Senator Murkowski,
As Alaska's advocate in Washington, you have spent your career educating your colleagues about why Alaska is different. The challenges we face are unique to the Last Frontier. As Alaskans, we deeply cherish and rigorously defend our rights secured by the Constitution—rights that protect our way of life.
Alaska is one of the farthest states from Washington, D.C. and oftentimes our values are just as far from the minds of Congress or the president. Thankfully, the Constitution serves as a safeguard against an overzealous executive or legislature. But in order to ensure our rights are not infringed, we must have a Supreme Court that strictly interprets and respects the Constitution.
That's why Judge Brett Kavanaugh's confirmation is so vital to Alaskans. Without a Supreme Court that strictly upholds the Constitution, the rights of Alaskans are subject to the preferences of unelected judges who are often unfamiliar with how their decisions impact our state. Any major decision that affects Alaska comes through the often-overturned Ninth Circuit Court of Appeals. Judicial deference to overreaching bureaucrats in administrative agencies across the country leaves our state vulnerable.
What if Alaskans lose access to state waters for recreation, hunting, and fishing because of federal overreach? Or if the federal government prohibited energy exploration that supports our state economy? Or if a district court ruled Alaskans had no recourse against a government agency that was fining them thousands of dollars a day for developing their own private property? These are very real possibilities if senators don't confirm a judge who will defend the Constitution and the rights of Alaskans. The courts must leave the legislating to Congress.
Since becoming our senator in 2002, you have compiled an excellent record of supporting Supreme Court nominees who strictly interpret the law and opposing those who have a record of legislating from the bench.
We're glad you are deliberate in your research and dutiful in your constituent outreach, but when it comes down to it, Judge Kavanaugh is a qualified candidate who deserves your support. His track record of strictly interpreting the law is not only necessary for the preservation of our rights, but vital to every Alaskan's way of life.
Sincerely,
Jeremy Price
Alaska State Director
Americans for Prosperity
Click here to ask Sen. Murkowski to support Judge Brett Kavanaugh's nomination to the Supreme Court!