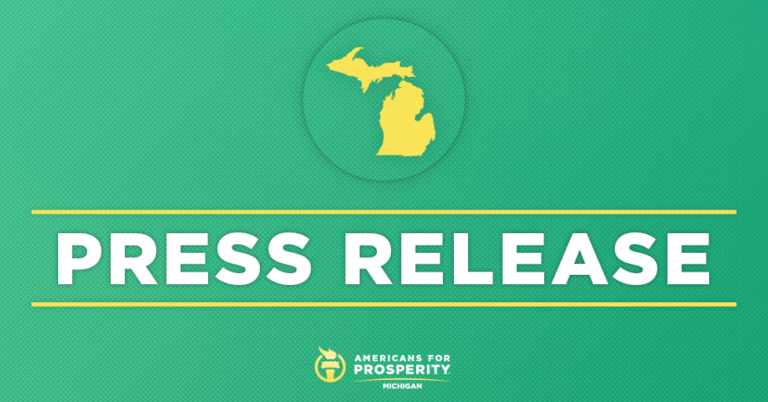 Ahead of President's Visit, Americans for Prosperity Doubles Down on Opposition to Administration's Spending Proposal
LANSING, Mich.— Ahead of President Biden's visit to Howell, Mich., the Michigan chapter of Americans for Prosperity said it will continue its efforts to rally grassroots opposition to the Biden Administration's bloated budget proposal. The grassroots group said there is not broad support for the budget proposal's radical government overreach. Meanwhile, the connected infrastructure bill only allocates 5 cents of every dollar to the country's infrastructure needs.
Annie Patnaude, State Director of AFP-Michigan, made the following statement:  
"There is not broad support in Congress—and there certainly isn't support in Representative Elissa Slotkin's district—for these radical spending proposals that will raise taxes by trillions of dollars, increase inflationary pressure on families and small businesses, and allow government to take over our economy. From our conversations at the doors with thousands of Representative Slotkin's constituents, it is clear that people are concerned about the direction of our country. They don't support putting more pressure on families and job creators with federal spending, taxes, and debt."
In a Crain's Detroit Business opinion piece co-authored with State Senator Aric Nesbitt, Patnaude explained how the policies will set Michigan back as a state. The group has also held dozens of events in Congresswoman Elissa Slotkin's district. Last month, State Senator Lana Theis (R-Brighton Township) authored a letter with four of her colleagues in the Michigan State House urging Representative Slotkin to oppose these reckless tax-and-spend proposals.
Doors, phones and earned media are just one layer of AFP's robust, highly targeted seven figure "Stop the Spending Spree" national campaign. With swing votes in the House of Representatives, such as Rep. Elissa Slotkin, the grassroots organization has also hosted numerous in-person events, dropped targeted direct mail, run digital ads, and utilized citizen-to-citizen outreach to encourage constituents to reach their representative in Washington to oppose the proposal.