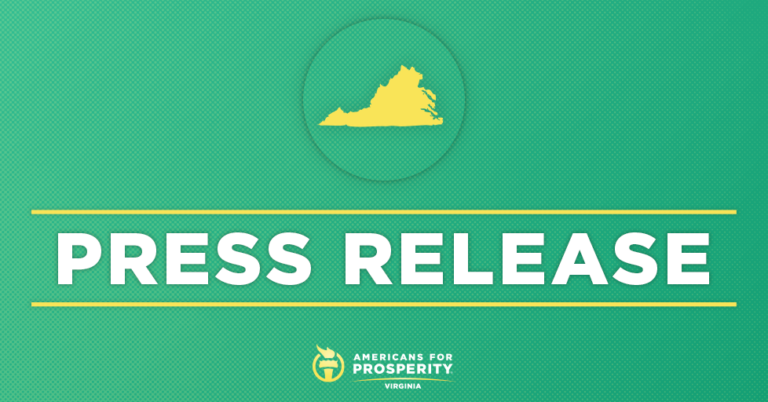 AFP-Virginia Provides Analysis on the 2021 Legislative Session
RICHMOND, Va. – Americans for Prosperity-Virginia (AFP-VA) reflected on the highs and lows of the legislative session. The grassroots group will continue to push for labor reform as a top priority for the year, focusing on collective bargaining in the near months.
AFP- VA State Director J.C. Hernandez issued the following statement:
"We were pleased to see health care remain at the forefront for the General Assembly throughout the session. However, there were still some missed opportunities. We would have liked to see more of the temporary health care reforms, such as removing the caps on beds and medical equipment, made permanent.  We would have also liked to see a greater emphasis on economic recovery and getting people back to work safely. I'm proud of the work our activists did to advocate for removing barriers to opportunity to improve the lives of Virginians across the state. We look forward to our team's efforts in the coming months to preserve diverse work opportunities and working with localities to ensure public employees retain the ability to negotiate on their own behalf."
Background:
Getting People Back to Work Safely: Independent Contracting & Protecting Right to Work
Economic recovery and getting Virginians back to work safely should have been an issue placed alongside health care at the forefront of the legislative session, especially as Virginia continues to adjust to the new normal and recover because of the COVID-19 pandemic.
Independent Contracting:
Legislators were able to bring clarity concerning PPE (personal protective equipment) for their employees and independent contractors in response to the crisis. Unfortunately, the General Assembly failed to pass protections for independent contractors in Virginia through SB1323 and HB2296, which would have cemented flexible work options and protected those who chose to be independent contractors from potential classification issues.
Right to Work:
Right to work laws in Virginia prevents workers from being forced to join a union or pay fees without their consent as a condition of their employment. These laws also afford workers more freedom in various ways, from how they choose to spend their paychecks to their professional associations. Legislators should focus on protecting Virginians rather than taking actions that threaten their constituents right to work status. AFP-VA successfully protected right to work laws again by defeating the full repeal.
| | |
| --- | --- |
|  Policy Wins | Opportunities for Additional Reform |
| HB1775 – Defeating right to work repeal | SB1323 & HB2296 – Independent Contractor Protections |
| HB2134 – PPE Classification | HB1935 – PPP Conformity |
Care for the Commonwealth: Repealing Certificate of Public Need Wins
Virginia needs to make strides towards a health care system that delivers quality care that is easy to access. Everyone should have the ability to seek the care they need when they need it, and at a price they can afford. The temporary reforms enacted in the wake of COVID-19 that made that vision a reality should be made permanent.
Two major wins from the legislative session included expanding the scope of practice for nurse practitioners and pharmacists and removing barriers to affordable, accessible health care. Building off of the momentum from previous years with the expansion of telemedicine coverage and patient reimbursement, the inclusion of remote patient monitoring in telehealth coverage this session was truly transformational.
Certificate of Public Need (COPN):
Many states, including Virginia, temporarily removed these unnecessary restrictions that saved countless lives. Permanently removing certificate of public need (COPN) remains a high priority for AFP-VA.
| | |
| --- | --- |
|  Policy Wins | Opportunity for Additional Reform |
| HB1747, HB1737 & HB2079 – Scope of Practice | Certificate of Public Need (COPN) |
| HB1987 & SB1338 – Remote Patient Monitoring | |
Justice for All: Policing Reform
AFP-VA supports reforms that will result in a criminal justice system that preserves public safety, promote second chances for those with a conviction record, and ensures equal justice under the law for all. Legislators made progress by removing barriers to employment and improving policing practices. However, more work is needed to improve the lives of those seeking a second chance while also preventing involvement with the justice system when it will not impact public safety.
Automatic expungement was significantly expanded to allow for more individuals to seal their criminal records and move past these past mistakes. The state's probation system was strengthened by ensuring its resources are focused on those who pose the greatest risk to public safety. This reform could have gone further by prohibiting the detention of individuals for mere technical violations, but it will still positively impact many individuals across the Commonwealth.
Our state chapter will continue to prioritize the improvement of policing practices and the repeal of qualified immunity and mandatory minimums. Upcoming legislation should ensure that those that violate an individual's constitutional rights can be held accountable for their actions and that judges can administer sentences proportional to the crime committed.