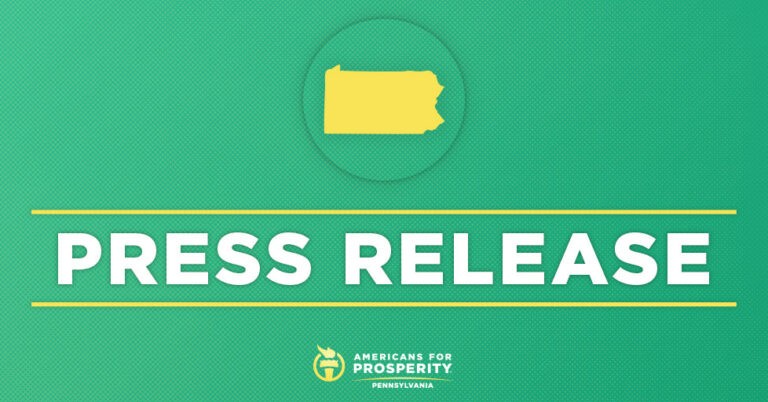 AFP Urges Senate to Confirm Porter to Third Circuit
HARRISBURG, Pa. – Americans for Prosperity-Pennsylvania (AFP-PA) on Thursday applauded the Senate Judiciary Committee for voting David Porter, the President's nominee to the U.S. Court of Appeals for the Third Circuit, out of committee and urged his swift confirmation by the full Senate. AFP-PA has backed Porter, a Pennsylvanian, since his nomination in April. The grassroots group has been committed to supporting the confirmation of qualified judicial nominees who won't legislate from the bench to fill vacancies on the Supreme Court and lower courts alike.
AFP-PA will continue to invest resources in phone banks, canvassing, events, paid media, and more to urge Pennsylvanians to contact Senator Bob Casey and tell him to confirm Porter. While Senator Pat Toomey has been supportive of qualified nominees like Porter to the bench, Sen. Casey has been playing politics and has tried to obstruct the confirmation process.
AFP-PA State Director Beth Anne Mumford issued the following statement:
"We have more than 180 vacancies on lower courts across our country so it's crucial that our senators address these vacancies with the urgency this crisis deserves. Senator Casey has been unwilling to listen to his constituents before blindly opposing this nominee, but we hope that with our activists' growing demand for nominees like Porter, the senator will take another look at the Pennsylvanian's sterling credentials, put obstructionism aside, and reconsider his position. Our grassroots activists are energized and ready to hold accountable any senators who choose to play political games with judicial confirmations at any level."
Porter previously clerked for the Third Circuit Court of Appeals and serves as an elected member of the American Law Institute.
Background:
Earlier this year, AFP announced a scaled-up investment in judicial engagement, which includes educating AFP activists on the importance of a fully-functioning judiciary, supporting fair and qualified lower courts nominees, and laying the grassroots groundwork for any upcoming Supreme Court vacancies.
Following Justice Anthony Kennedy's retirement from the U.S. Supreme Court in June, Americans for Prosperity committed seven figures to paid advertising and grassroots engagement in support of Judge Kavanaugh's confirmation. Door and phone scripts have already been deployed to each of the 36 AFP state chapters, and the first round of mail, door hangers and digital ads will be deployed in Pennsylvania, West Virginia, North Dakota, Indiana, Florida, Montana, Ohio, Michigan, and Alabama.  AFP will host events, tele-townhalls, and Facebook Live conversations with key lawmakers about the proper role of courts, and the importance of confirming judges who interpret the law as written.
AFP-PA Applauds Porter Nomination (4/10/18)
Americans for Prosperity-Pennsylvania Urges Casey to Support Porter (6/6/2018)
AFP-PA Applauds the Trump Administration on Nomination of Kavanaugh and Urges Swift Confirmation (7/9/2018)