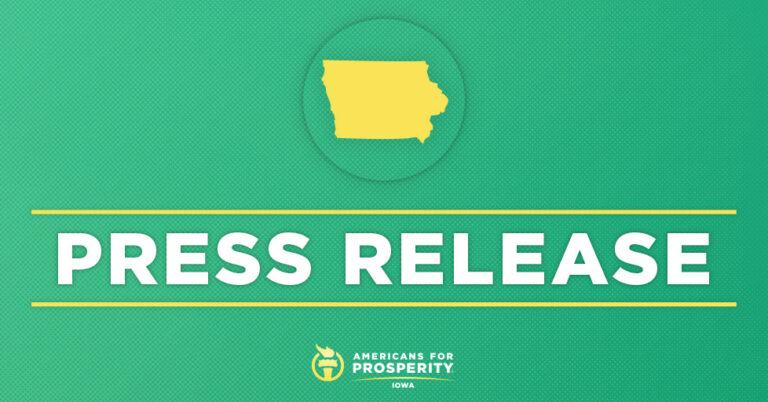 AFP Thanks Senators Grassley and Ernst for Voting to Confirm Justice Amy Coney Barrett
DES MOINES, Iowa – Following the full Senate vote to confirm Justice Amy Coney Barrett to the Supreme Court, Americans for Prosperity-Iowa State Director Drew Klein issued the following statement:
"On behalf of activists across Iowa, who made and sent tens of thousands of calls and letters to their senators, we congratulate our newest Supreme Court Justice, Amy Coney Barrett. Justice Barrett is supremely qualified, will interpret the law as written and protect our freedoms.
"We thank Senators Grassley and Ernst for their thoughtful questioning of Justice Barrett during her confirmation hearing and for voting to confirm her to our highest court."
Background:
Americans for Prosperity launched a full-scale national campaign to mobilize its permanent grassroots infrastructure and empower its activists to support Judge Amy Coney Barrett's confirmation to the high court.
AFP set up a unique UniteForBarrett.com web page that empowered activists to share their support of Justice Barrett with their senators, and the group's state leaders took the conversation directly to the grassroots by talking to members of their communities, writing op-eds in local newspapers, and hitting the airwaves. The group also hosted several live videoconferences for the grassroots to hear directly from their senators and state attorneys general, and deployed a robust mix of targeted direct-mail, layered digital ads, and other tactics throughout the country to supplement activists' efforts.
AFP heavily engaged its grassroots to support the confirmation of qualified nominees to the Supreme Court in previous years. With the dedicated efforts of its activists nationwide, AFP directly reached more than one million Americans in support of Justice Kavanaugh's confirmation in 2018 through a combination of door-knocking, phone-banking, and other tactics.
Resources:
AFP-Iowa Joins Nationwide, Full Scale Campaign to Confirm Judge Amy Coney Barrett
The Gazette: Iowa plays outsized role in Supreme Court confirmation hearing (10/20/20)
Digital Ad Examples: