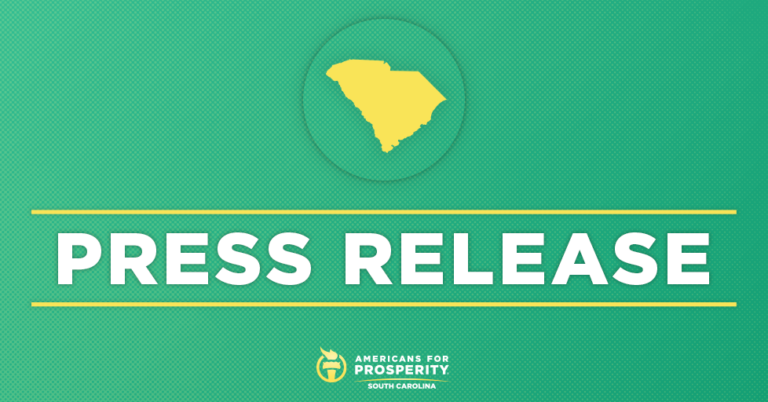 AFP-SC: One Step Closer to the FIRST STEP ACT
Columbia, SC – Americans for Prosperity- South Carolina (AFP-SC) has commended President Trump for endorsing H.R. 5682, the FIRST STEP Act which passed the House of Representatives earlier this year 360-59. This Act makes critical reforms to the federal criminal justice system by focusing on rehabilitating federally incarcerated people and giving them the tools needed to successfully reenter society upon release from prison. Today, Americans for Prosperity announced a six-figure direct mail and digital ad campaign urging bipartisan support for passing the FIRST STEP Act, reining-in government spending and promoting trade policies. South Carolina's own Sens. Graham and Scott were thanked for their support of criminal justice reform. Senator Scott was also thanked for his support of better trade policies.
View FIRST STEP mail here.
FIRST STEP Senator Graham
FIRST STEP Senator Scott
View TRADE mail here.
AFP-SC state director Andrew Yates issued the following statement:
"Americans for Prosperity-South Carolina is pleased that President Trump has endorsed the FIRST STEP Act which will reduce crime and recidivism and make our communities stronger. This bipartisan legislation, is a critical first step toward fixing our broken criminal justice system, and the compassionate reforms made within the FIRST STEP ACT are simply commonsense. As a leader in the criminal justice reform movement, South Carolina has shown that a smart-on-crime, soft-on-taxpayers approach makes us all safer and helps improve people who deserve a second chance. This is the time of year when many of us gather with loved ones to give thanks, and AFP-SC can think of no better way to celebrate the spirit of Thanksgiving than to offer second chances to those who need it the most and reunite families. To that end, we urge Senator McConnell to bring the FIRST STEP ACT to the floor as soon as possible."
AFP President Tim Phillips issued the following statement:
"As Americans gather around the table to give thanks, we want to take the opportunity to bring people together to address some of the toughest problems facing our country. After Thanksgiving, there is still crucial work to be done in Washington, and the more lawmakers work together, the better — whether that's passing the FIRST STEP Act, addressing out-of-control spending, or promoting free trade. Many lawmakers are already leading by driving progress on these issues, and we invite anyone who's willing to join with us to help get the job done."
Background
THE FIRST STEP ACT:
The FIRST STEP Act requires the Bureau of Prisons (BOP) to place inmates no more than 500 driving miles from home, helping spouses, parents, and children more practically visit their family members behind bars and making it easier for inmates to reintegrate into society upon release.
Fixes a mistake in federal law to ensure that all well-behaved prisoners not serving life sentences can accrue 54 days of "good time credit" off their sentences per year, instead of the 47 per year that 178,000 inmates currently receive.
More opportunities and incentives for inmates to participate in rehabilitation programs in prison, giving a better foundation for success after release
Directs the BOP to let low-risk low-needs inmates serve home confinement for up to 6 months of the end of their sentences
Retroactively applies the Fair Sentencing Act of 2010, which reduced the crack-cocaine sentencing disparity from 100:1 to 18:1, to current inmates.
Expands eligibility for the federal "safety valve" (18 U.S.C. § 3553(f)) to keep more low-level drug offenders from incurring mandatory minimums meant for high-level drug traffickers, creating more proportional punishments.
Eliminates first-time "stacking" charges (18 U.S.C. C. § 924(c)) that add extra mandatory minimums on top of a sentence if the defendant committed an applicable crime while possessing a gun, whether it was used in the crime or not.
Reduces excessive 20-year and life-without-parole mandatory sentences for drug offenders with prior drug convictions under 21 U.S.C. § 841 and § 851. Having a drug relapse shouldn't warrant life behind bars. FIRST STEP corrects our priorities by reducing mandatory punishments for past drug offenders while applying the original minimums to defendants who have already committed serious violent felonies.
For further information or an interview, reach Anna McEntee, amcentee@afphq.org, 703-674-9227