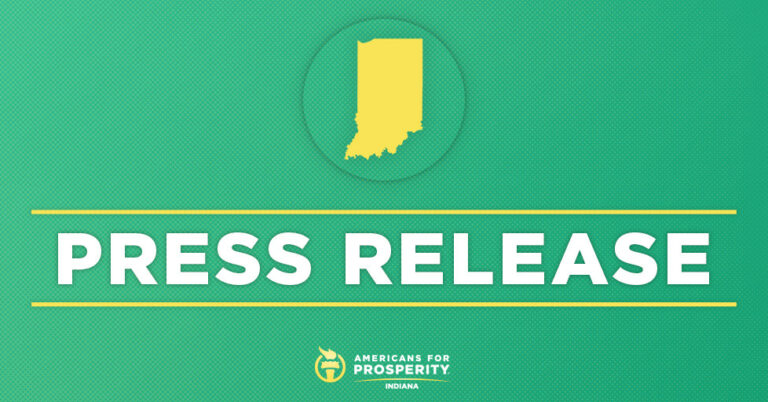 AFP Rallies Support for Tax Reform Ahead of Trump, Pence Visit
Grassroots engaged, will continue to promote benefits of tax reform across state
INDIANAPOLIS, Ind. – Americans for Prosperity-Indiana (AFP-IN) persists in urging lawmakers to protect the benefits of tax reform ahead of President Trump and Vice President Pence's visit to Elkhart on Thursday. The policy group will continue its extensive, state-wide ground efforts to talk to Hoosiers about the benefits of the new tax law.
The group, which continues to expand and plans to open a fourth Indiana office in the coming weeks, has already been hard at work hosting events with lawmakers, phone banking, door knocking, and engaging in other grassroots activities to publicize the economic benefits of tax reform that are helping all Hoosiers.
South Bend Activist Touting Tax Reform:
AFP-IN State Director Justin Stevens issued the following statement:
"President Trump, welcome to Indiana and in the case of Vice President Pence, welcome home. This visit underscores the significant role Hoosiers play in the broader effort to promote the benefits of tax reform.
"In the coming months our activists will talk to folks in their communities throughout the state to fully elaborate all the good things we're seeing as a result of tax reform.
"We also remain committed to holding Joe Donnelly accountable for voting to deny his constituents bigger paychecks and urging him to make these tax cuts permanent."
Background:
Indiana senator confident Hoosiers are benefiting from 2017 federal tax law changes (The Times of Northwest Indiana, 4/16/18)
Koch-Backed Groups Are Selling Trump's Tax Cuts Door-to-Door Ahead of the Midterms (Bloomberg, 5/2/18)
Group spending more than $2M attacking Donnelly over tax bill (Indy Star, 2/13/18)
Group dropping another $2 million on ads attacking Donnelly for voting against tax cut package (Indy Star, 3/14/18)
For further information or an interview, reach Lorenz Isidro at LIsidro@afphq.org or (703) 887-7724. 
Americans for Prosperity (AFP) exists to recruit, educate, and mobilize citizens in support of the policies and goals of a free society at the local, state, and federal level, helping every American live their dream – especially the least fortunate. AFP has more than 3.2 million activists across the nation, a local infrastructure that includes 36 state chapters, and has received financial support from more than 100,000 Americans in all 50 states. For more information, visit www.americansforprosperity.org
###