Please select your state
so that we can show you the most relevant content.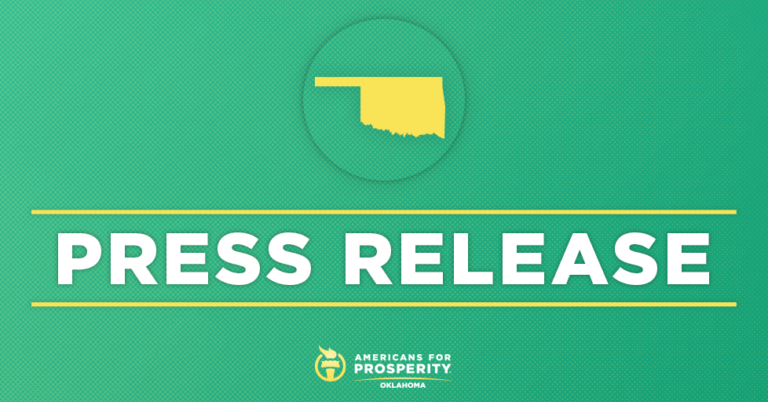 AFP: Oklahomans Deserve Better than a Massive Tax Hike
Grassroots group urges lawmakers to prioritize Oklahomans, make good on key reform measures
OKLAHOMA CITY, Okla.—On the heels of the largest tax hike in state history, Americans for Prosperity-Oklahoma (AFP-OK), the state's largest free-market advocacy group with more than 40,000 activists across the state, issued a challenge to legislative leaders to institute meaningful reforms before the end of the 2018 legislative session.
"We call on lawmakers to pledge to shrink the size of government and make it more accountable, make education work for every student, embrace good stewardship, and remove barriers to empower Oklahomans to pursue their American Dream," said AFP-OK State Director John Tidwell. "The people want reform. They are very frustrated the legislature charged hard working Oklahoma families half a billion dollars in new taxes and have done nothing to address some real areas that are ripe for reform."
AFP issued a challenge to the legislature to deliver on key reform measures and end this legislative session with a record of progress rather than the biggest tax hike in state history.
AFP is urging the legislature to address:
Grant the Governor direct appointment power over state agency directors for direct accountability by supporting HB 3036, HB 3209, and HB 3603.
Create a state budget office to operate within the Oklahoma Capitol to give reliable estimates and fiscal analysis.
Education budget accountability and reform plan:

Reform the state's school funding formula to one that is student-centered, incentivizes better outcomes and is equitable across the state by supporting HB 2860, SB 929, SB 1398, and SJR 70.
Develop a data-driven school administrative consolidation plan that drives efficiency in district planning.
Foster professional longevity by adding a teaching certification pay ladder that encourages performance and experience by supporting SB 980.

Pass line item budgets for the state's largest agencies to ensure accountability in state spending.
Allow for direct to consumer vehicle sales by supporting SB 1560.
Require state agencies to report the amount of federal funds received, to rank the funds according to the agency's reliance on them and to report the cost incurred to comply with federal requirements associated with the funds by supporting HB1748 (2015).
Push for modernization of occupational licensure in the state through an ongoing commission to identify issues within licensing and establishing a database to track licenses the state issues in an effort to improve the system and increase the number of those working in licensed professions.
© 2023 AMERICANS FOR PROSPERITY. ALL RIGHTS RESERVED. | PRIVACY POLICY