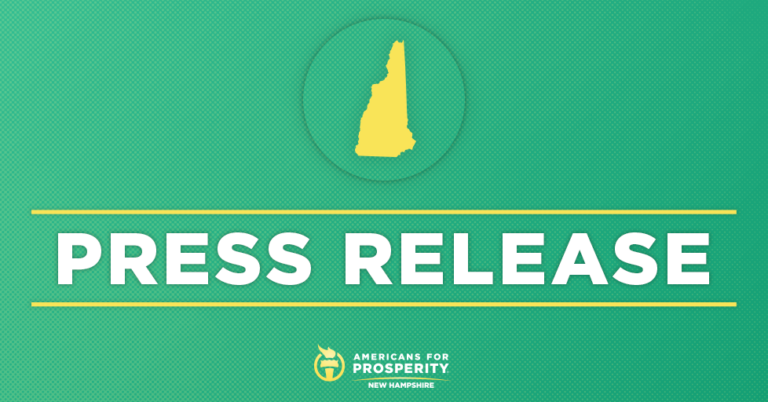 AFP-NH Thanks Governor Sununu for Protecting Granite State Ratepayers
Governor Sununu vetoes bills that would have increased already high electric costs, jeopardize economic growth grassroots group says
CONCORD, N.H. – Americans for Prosperity-New Hampshire (AFP-NH) today applauded Governor Sununu for providing relief for electric ratepayers and vetoing two bills, Senate Bill 365 and Senate Bill 446, that include ratepayer subsidies for above market renewable energies.
New Hampshire rate payers face some of the highest electric rates in the country. According to the U.S. Energy Information Administration, New Hampshire residents pay an average retail price of 19.40 cents per kilowatt hour, compared to a national average of 12.50 cents. Governor Sununu's veto follows his 10-year energy strategy that focuses on allowing market forces to determine energy investments, rather than relying on costly subsidies that have been a key factor in the state's high electricity prices.
Americans for Prosperity-New Hampshire State Director Greg Moore issued the following statement:
"Right now, New Hampshire is benefitting from a huge economic boom, driven by our efforts to make the state more competitive by providing tax relief for employers and replacing cumbersome, expensive regulations with smart, collaborative ones. It's no accident that we are leading the region in job growth, net migration and lowest unemployment. These bills would have attacked our competitive advantage and set us backwards.
"We applaud Governor Sununu's veto of these energy subsidy bills and reaffirming his commitment to his energy plan of lowering electric costs for Granite Staters and making our state more competitive. Forcing New Hampshire businesses and families to pay more in electric costs at the expense of protecting certain companies and industries would undermine the tremendous economic growth our state is experiencing."
Background:
An analysis conducted by Strata Policy Research and commissioned by AFP-NH's sister organization, Americans for Prosperity Foundation, found New Hampshire's energy policies contributed to Granite Stater's high electricity costs.
The study recommended New Hampshire's renewable energy programs be eliminated or reformed so that money is directed towards rate relief, rather than subsidizing inefficient renewable energy programs. The New Hampshire Union Leader highlighted the study in an editorial on why electric rates are so high in New Hampshire.