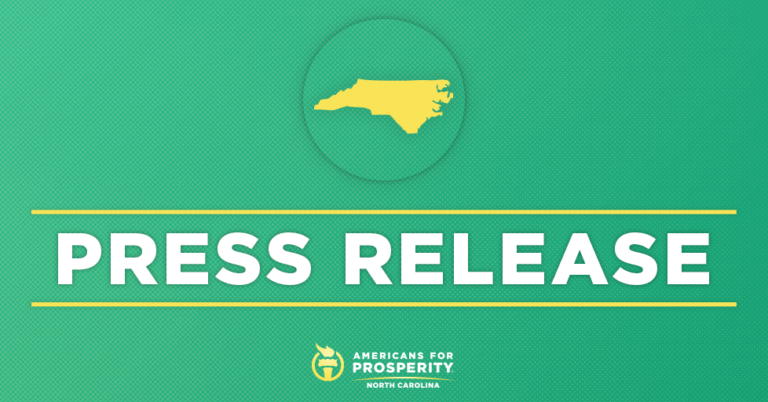 AFP-NC Endorses Policy Champions for North Carolina Legislature
Raleigh, North Carolina—Americans for Prosperity-North Carolina (AFP-NC) today announced support for policy champions running to serve in the North Carolina General Assembly. 
AFP is endorsing State Rep. Erin Paré, State Rep. Jeff Zenger, Former Rep. Bill Brawley, State Rep. Bobby Hanig, Allen Chesser, John Harris, Jarrod Lowery, Don Pomeroy, and EC Sykes, for their principled commitment to the issues that matter most to North Carolinians.  
AFP-NC Deputy Director Tyler Voigt made the following statement after the announcement: 
"Every one of these candidates brings passionate leadership to crucial policy discussions happening in Raleigh. From health care, to education, to getting the state's fiscal house in order, these leaders are focused on the issues that make the biggest impact on the lives of families, senior citizens, and small business owners.  
"We'll be harnessing our network of activists until November to ensure these champions can get to work on improving the Old North State." 
Background 
State Rep. Erin Paré 
Rep. Pare is running for reelection to North Carolina's 37th House District. She is a taxpayer champion as an original cosponsor of North Carolina's Taxpayer Bill of Rights legislation, which would put legislative guardrails on spending. She also sponsored legislation to create Opportunity Scholarships for North Carolina's students and supported much-needed reforms to the state's certificate of need laws, while opposing costly attempts to expand Medicaid. 
State Rep. Jeff Zenger  
Rep. Zenger is a champion for educational opportunity in North Carolina. He's supported expanding school choice options including North Carolina's Opportunity Scholarships. He's also making a name for himself as a taxpayer champion as a sponsor of the Taxpayer Protection Act and a fiscal steward of taxpayer money. 
Former State Rep. Bill Brawley 
Former Rep. Brawley served two stints in the General Assembly, once from 2011-2018. He is running again to represent the 103rd House District and to continue his work on education, health care, and spending reform in Raleigh. He's a staunch defender of limiting government overreach, from opposing speech codes on college campuses or bans on sugary drinks, to voting against Medicaid expansion in North Carolina. 
State Rep. Bobby Hanig 
Before running for North Carolina Senate, Rep. Hanig served as Deputy Whip in the North Carolina House of Representatives where he was an advocate of health care reforms that would expand access and reduce costs for North Carolinians.  
Allen Chesser II 
A veteran and former police officer, Allen Chesser is the State Chairman of the North Carolina Republican Liberty Caucus. He is running to represent the 25th District in the North Carolina House of Representatives. North Carolinians can rely on him to protect their tax dollars and to fight to lower their tax burdens. As a former police officer, he is also committed to law enforcement reforms that keep communities safe by focusing their energy on violent crime and working to reduce overcriminalization that takes time and resources away from the most pressing public safety concerns. 
John Harris 
John Harris is an attorney with experience as the Assistant U.S. Attorney in Raleigh. Now in private practice, Harris is running to represent the 36th District in the North Carolina House of Representatives. He is dedicated to empowering students and parents with greater educational freedom, championing small businesses by reducing burdensome regulations, and protecting taxpayers through fiscal restraint and lower tax rates. 
Jarrod Lowery 
Lowery brings a wealth of government experience to his bid to represent North Carolina's 47th District. A Marine Corps veteran, public servant, and public university trustee, Lowery is well-prepared to advocate for balanced budgets, lower taxes, regulatory reform, and second chances for deserving formerly incarcerated individuals.  
Don Pomeroy 
Don Pomeroy is running to represent the 104th District in the North Carolina House of Representatives. The business veteran and CPA has familiarity with policies that strangle the economy. In addition to working to end corporate welfare and advocating for fiscal restraint, Pomeroy is a strong supporter of creating education savings accounts. 
EC Sykes 
EC Sykes is running to represent North Carolina's 18th District in the State Senate. Sykes comes from the business world, which informs his desire to reform regulations to improve North Carolina's business environment. In this vein, he's a strong proponent of reducing personal and corporate income taxes. As a parent, he understands the importance of giving parents a wide array of education options to meet their children's individual learning needs. 
-###-