Please select your state
so that we can show you the most relevant content.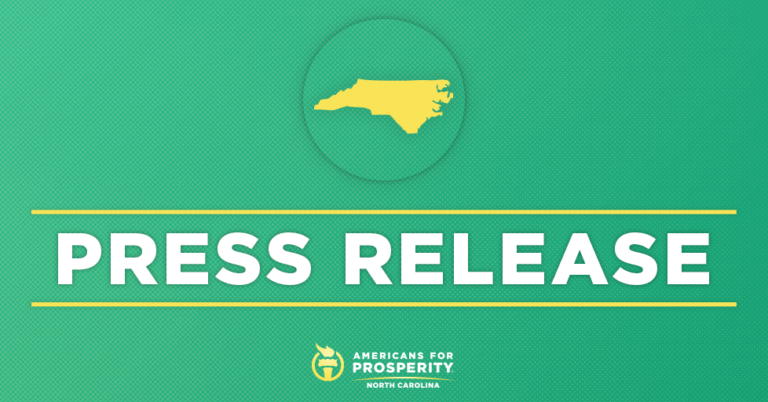 AFP-NC Announces Six-Figure Paid Media and Grassroots Effort to Support North Carolina General Assembly Lawmakers
Raleigh, NC – Americans for Prosperity – North Carolina (AFP-NC) today announced its support for seven North Carolinian lawmakers running for re-election in the North Carolina General Assembly. AFP-NC will support: Senator Jeff Tarte, Senator Trudy Wade, Senator Michael Lee, Senator Dan Bishop, Representative Bill Brawley, Representative John Bradford, and Representative Donny Lambeth. To support these principled candidates, AFP-NC will launch grassroots efforts with canvassing and phone banking, bolstered by targeted direct mail and digital ads.
AFP-NC State Director Chris McCoy issued the following statement:
"These principled lawmakers have served their constituents and the Tar Heel state well.  They have worked tirelessly to remove barriers to opportunity for North Carolinians and with our support, we know they will again. On the ground, our grassroots activists will be making calls and going door-to-door to encourage voters to support these policy champions."
Background:
Senator Jeff Tarte is currently the senator from District 41, representing Mecklenburg County. Senator Tarte is a leading voice against over-regulation and over spending as well as an advocate for sensible tax reform.
Senator Trudy Wade is currently the Senator from District 27, representing Guilford County. Senator Wade has been a champion for expanded access to quality education, worked to cut spending, advocated for and worked to achieve tax reform which resulted in lowered income taxes for North Carolinians.
Senator Michael Lee is the current senator representing Senate District 9, New Hanover County. Senator Lee advocated for responsible spending, responsible regulation reductions, and tax reforms that have resulted in North Carolinians retaining more of their hard-earned money.
Senator Dan Bishop is the current Senator from District 39, representing Mecklenburg County. Senator Bishop is a champion on Free Speech and school choice, having voted to expand opportunities for all children to have a quality education. Additionally, Senator Bishop advocates for sensible tax and spending reforms.
Representative Bill Brawley is the current representative for District 103, representing Mecklenburg County. Representative Brawley is a health care reform champion, sponsoring and co-sponsoring bills that provide more access to health care for rural areas, amend certificate of need laws, and allow individuals the right-to-try. In addition, Representative Brawley is a champion for responsible tax reforms allowing North Carolinians to keep more of their hard-earned money.
Representative John Bradford is the currently holds the seat for district 98, representing Mecklenburg County. Representative Bradford is a champion on tax, regulatory, and spending reform.
Representative Donny Lambeth is the current Representative for District 75, representing Forsyth County. Over his career, Representative Lambeth has been an advocate for tax reform, common sense spending reforms, and regulatory reform. In addition to this, Representative Lambeth is a champion on reforming the health care regulatory environment.
© 2023 AMERICANS FOR PROSPERITY. ALL RIGHTS RESERVED. | PRIVACY POLICY