Please select your state
so that we can show you the most relevant content.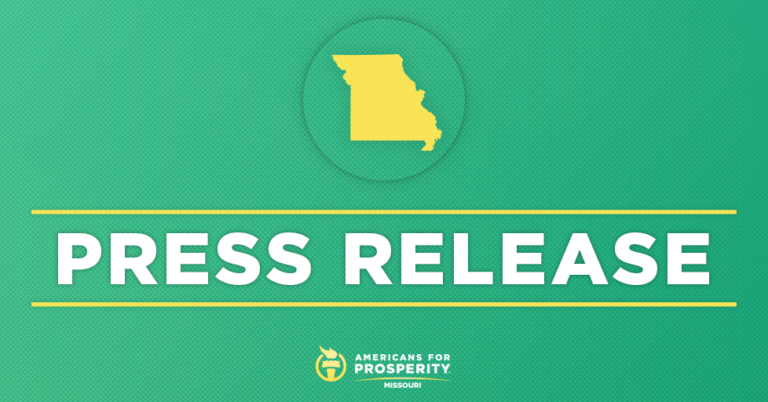 AFP-MO: Tax Reform's Success Evident During President Trump's Visit
JEFFERSON CITY, Mo. – Americans for Prosperity-Missouri (AFP-MO) released a statement Wednesday echoing the success stories told by business owners, employees, and other Missourians who were invited to attend and speak during President Trump's trip to St. Louis' Boeing plant.
Earlier today, AFP-MO announced they're launching a second wave of ads informing Missourians on the benefits of tax reform and holding Sen. McCaskill accountable for her "no" vote.
AFP-MO State Director Jeremy Cady released the following statement:
"There have been many stories from Missouri businesses handing out bonuses, raises, and other benefits to their employees thanks to the new tax law. Based on the stories shared during President Trump's visit to St. Louis, it's clear middle-class taxpayers keeping more of their hard-earned money goes a long way towards paying bills, covering unexpected costs, or saving for their kids college account. AFP will continue to inform Missourians on the benefits of tax reform and bring these stories to light and hold accountable the legislators who voted against providing these benefits to their constituents."
Background:
Missourians Are Reaping The Benefits Of Tax Reform:
Missouri-Based Great Southern Bancorp Inc. Will Give All Full-Time Employees A $1,000 Bonus And All Part-Time Employees A $500 Bonus As A Direct Result Of Tax Reform. "A Springfield-based banking company plans to give one-time bonuses to more than 1,200 employees following the federal tax overhaul recently approved by Republicans in Washington, D.C. Great Southern Bancorp, Inc., says it will pay $1,000 in cash to all full-time employees and $500 to part-time workers who were employed by the bank on Dec. 31. In a news release, Great Southern specifically cited the federal tax reform legislation that Congress passed and President Donald Trump signed into law in December." (Will Schmitt, "Citing GOP Tax Reform, Springfield Bank To Pay Bonuses To All Employees," Springfield News-Leader, 1/4/18)
Missouri-Based Hostess Will Give Employees A $1,250 Bonus In Addition To A Year Of Free Snacks. "Kansas City-based Hostess Brands will give corporate and hourly baker employees a $1,250 bonus, which includes $750 in cash and a $500 401(k) contribution. More than 1,000 employees will receive bonuses. But the Twinkies maker is sweetening the deal even more with free Hostess snacks for a year. Once a week, employees will be able to take home a multipack of the 'product of the week,' which will be chosen weekly by a representative from each Hostess bakery." (Leslie Collins, "Hostess Brands Sweetens New Tax Reform Law With Employee Bonuses," Kansas City Business Journal, 2/1/08)
Kansas City Power And Light Requested A Rate Update To Pass Along 100% Of Its Savings From Tax Reform, Totaling $65 Million For Customers In Missouri. "KCP&L and KCP&L-Greater Missouri Operations Company (KCP&L-GMO), subsidiaries of Great Plains Energy Incorporated (NYSE: GXP), recently requested rate updates for their Missouri customers. The requests will update rates for several customer experience enhancements, including technology and green initiatives. Additionally, the companies are asking to pass along to customers 100% of the savings resulting from the Tax Cut and Jobs Act. This will result in approximately $65 million in savings for customers in Missouri." (Kansas City Power And Light, "KCP&L Files Rate Update Requests With Missouri Public Service Commission," Press Release, 1/31/18)
© 2023 AMERICANS FOR PROSPERITY. ALL RIGHTS RESERVED. | PRIVACY POLICY