Please select your state
so that we can show you the most relevant content.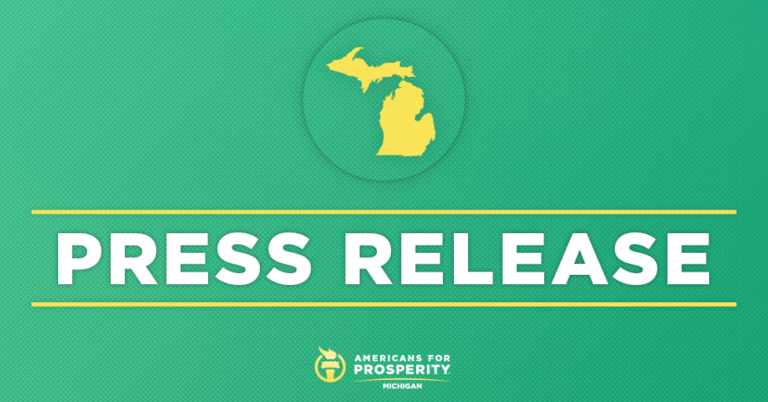 AFP-MI Applauds Supreme Court Ruling, Move Toward Repeal of Emergency Powers of the Governor Act
Decision Allows Unlock Michigan Efforts to Remove Unconstitutional Law From Books Appear Before Michigan Voters
LANSING, Mich. — Americans for Prosperity-Michigan (AFP-MI) today applauded the Michigan Supreme Court's ruling that the Board of State Canvassers must certify the Unlock Michigan petition. The petition would repeal the 1945 Emergency Powers of the Governor Act.
AFP-MI State director Annie Patnaude issued the following statement:
"No one branch of government should be able to exercise its authority unchecked. We applaud the ruling from the Michigan Supreme Court requiring the State Board of Canvassers to certify the Unlock Michigan petition.
"Last summer, in the face of unchecked executive power, the people of Michigan collected hundreds of thousands of signatures to repeal a law that does not live up to our principle of checks and balances on power. It is high time we repealed that law to help encourage policymakers from the executive and legislative branches to work together as co-equals, especially when it comes to important issues such as COVID-19 response. Checks on executive power are integral to a well-functioning democracy."
Background:
In October 2020, the Michigan Supreme Court issued a ruling that the 1945 Emergency Powers of the Governor Act was unconstitutional and that Governor Gretchen Whitmer had overstepped her bounds by issuing COVID-19 orders under the law without legislative approval. Unlock Michigan is a petition initiative working to officially remove the law from the books that has reached the number of signatures necessary for the Bureau of Elections to recommend certification. If the Board of State Canvassers approves the petition, it will go to the Legislature for approval, bypassing a potential governor-veto.
© 2023 AMERICANS FOR PROSPERITY. ALL RIGHTS RESERVED. | PRIVACY POLICY