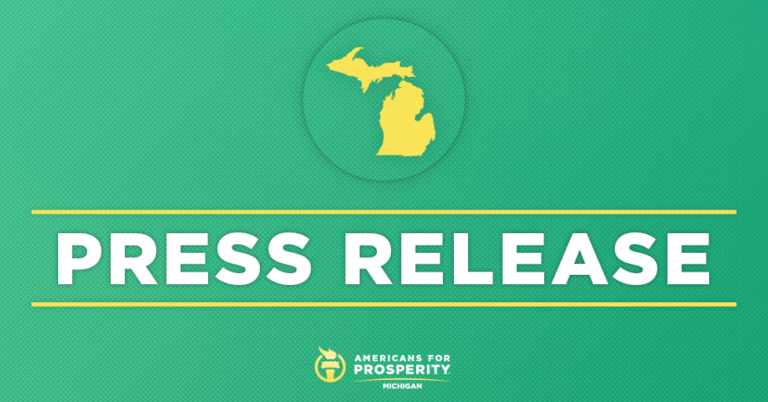 AFP-MI Announces Next Wave of Endorsements
Lansing, Michigan—Americans for Prosperity-Michigan (AFP-MI) announced its next wave of endorsements of candidates for the Michigan State Senate.
Incumbent Senators Lauwers, Nesbitt, and Runestad earned endorsements as policy champions on spending, regulatory relief, and tax reform.
AFP-MI State Director Annie Patnaude made the following statement after the announcement:
"Michiganders need leaders like Senators Lauwers, Nesbitt, and Runestad to have their backs. Time and again, these senators have voted to cut taxes and limit spending. Together, they've sent tax cuts to Gov. Whitmer's desk: they aren't just representing the taxpayers, they are forcing Gov. Whitmer to show Michiganders her real priorities. Each of these candidates has used their position in the legislature and on committees to push back against the overreach. They understand the power of the purse and Michigan voters can be sure that these champions will help them keep more of their paychecks."
Background
Sen. Jim Runestad (SD-23)
Sen. Runestad took office in 2019. Before serving in the Senate, Runestad represented the people of Michigan's 44th District in the Michigan House of Representatives. He currently serves as chair of the Finance Committee where he has maintained a watchful eye on Lansing's tax and spend policies and improving the state's fiscal outlook. In addition to championing the rights of taxpayers, Sen. Runestad has introduced legislation to reform outdated regulations that create barriers to accessing health care.
Sen. Aric Nesbitt (SD-20)
Sen. Nesbitt started his political career in 2010, serving in the Michigan House as the representative for Van Buren and part of Allegan Counties. He's served in leadership positions in the House and in Gov. Rick Snyder's cabinet. In the Senate, Nesbitt chairs the Advice and Consent and Senate Regulatory Reform Committees. He's led the charge on advancing income taxes in Michigan and has been a staunch opponent of Gov. Whitmer's gas tax increase. He's also recognized the harm done by overregulation and voted to roll back over 2,000 burdensome or redundant business regulations.
Sen. Dan Lauwers (SD-25)
Sen. Lauwers first started his political career in 2012 when he was elected to serve as representative for Michigan's 81st District. While serving in the Michigan House, Lauwers rose through leadership to become the Majority Leader. In the Senate he chairs the Energy and Technology Committee. Lauwers has a long track record of opposing tax increases and holding the line on government overreach.
-###-