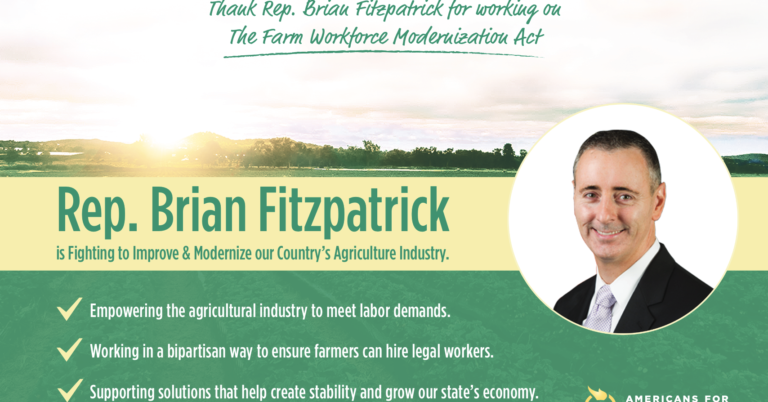 AFP Launches Mailers, Digital Ads Praising Bipartisan Efforts to Improve Agricultural Industry
Arlington, Va. – Today, Americans for Prosperity (AFP) announced the launch of a direct mail and digital campaign thanking Republican and Democratic lawmakers for their bipartisan efforts aimed at improving our country's agricultural industry through The Farm Workforce Modernization Act 2019.
View an example mailer here.
Americans for Prosperity SVP of Policy Jorge A. Lima issued the following statement:
"It is encouraging to see lawmakers work across party lines to better equip farmers and ranchers to hire the workers needed to meet industry demands. We applaud their commitment to pursuing policies that empower employers and workers to help create economic stability while improving our nation's agricultural industry. This step in the right direction is a key opportunity for the Senate to seriously debate meaningful solutions for our country's agriculture sector."
The lawmakers who will receive the mailers and the digital ads are:
Reps. Zoe Lofgren (D-CA), Tom Reed (R-NY), Devin Nunes (R-CA), Brian Fitzpatrick (R-PA), Elise Stefanik (R-NY), Cathy McMorris Rodgers (R-WA), Doug LaMalfa (R-CA), Lloyd Smucker (R-PA), Xochitl Torres Small (D-NM), Abigail Spanberger (D-VA), Mike Bost (R-IL), John Shimkus (R-IL), Adam Kinzinger (R-IL), Rodney Davis (R-IL.), David Joyce (R-OH), Steve Stivers (R-OH), Glenn Thompson (R-PA), Russ Fulcher (R-ID), and David McKinley (R-WV).
For further information or to set up an interview, please send an email to GCipriano@afphq.org.
Through broad-based grassroots outreach, Americans for Prosperity (AFP) is driving long-term solutions to the country's biggest problems. AFP activists engage friends and neighbors on key issues and encourage them to take an active role in building a culture of mutual benefit, where people succeed by helping one another. AFP recruits and unites activists in 35 states behind a common goal of advancing policies that will help people improve their lives. For more information, visit www.americansforprosperity.org
###