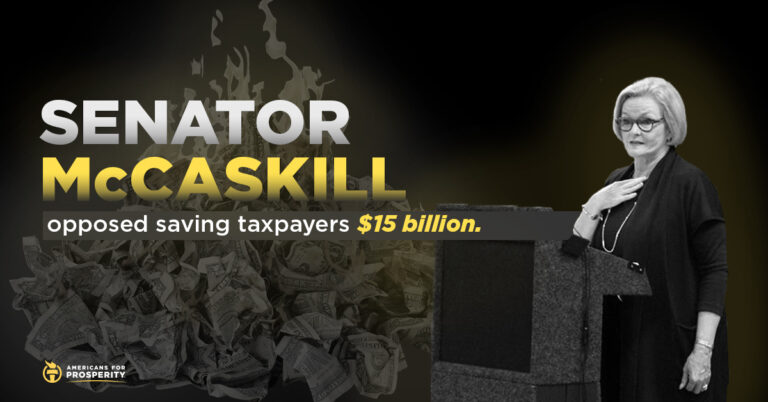 AFP Launches Ad Campaign Against Sen. McCaskill on Spending
JEFFERSON CITY, Mo. – Americans for Prosperity today announced a digital, direct-mail, and radio ad campaign holding senators accountable for opposing President Trump's rescission proposal, which would have saved taxpayers about $15 billion in unspent funds from previous years. The ad campaign will target Sen. Claire McCaskill for voting against debating the modest spending-reduction bill. The campaign will also include ads against Republican Senators Susan Collin (R-ME) and Richard Burr (R-NC), as well as Democrat Senators Heidi Heitkamp (D-ND), Joe Donnelly (D-IN), Tammy Baldwin (D-WI) and Jon Tester (D-MT). It will begin over the 4th of July holiday recess.
Click here to view the digital ad
Click here to view the mail piece
Continuing AFP's long-term Stop Overspending campaign, the organization also called on Congress to freeze discretionary spending for fiscal year 2019 in a letter sent today to chairs and members of the House and Senate appropriations committees. AFP urged lawmakers not to exceed the FY 2018 spending limits for FY 2019, and then pursue comprehensive reforms to mandatory spending.
AFP also outlined principles to safeguard the financial future of all Americans through responsible federal spending. (View the principles document here.)
AFP-Missouri State Director Jeremy Cady issued the following statement:
"Despite Sen. McCaskill's rhetoric about addressing the country's $21 trillion debt, her inaction speaks loud and clear – she's not serious about getting spending under control. Her decision to vote against even bringing the bill up for a debate shows her indifference towards solving one of our nation's most pressing issues. Missourians need a senator that will work for them, not the D.C. party leadership, when trying to tackle tough issues like our government's mounting debt."
Background:
AFP Expresses Disappointment in Senate for Blocking Vote on Rescission (6/20/18)
AFP to Key Vote in Favor of Senate Rescissions Package (06/20/2018)
AFP's Stop Overspending Campaign Urges Senators to Cut Spending, Support Rescission  (6/19/18)
AFP Praises House for Passing Rescission Package (6/7/18)
AFP to Key Vote in Favor of House Rescission Package (6/6/18)
AFP's Stop Overspending Campaign Urges Lawmakers to Cut Spending, Support Rescission (6/4/18)
AFP Launches Major Campaign Against Wasteful Government Spending (5/24/18)