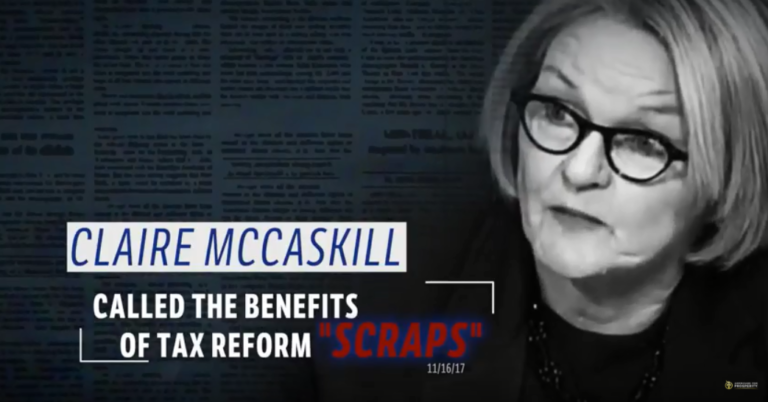 AFP LAUNCHES 2ND WAVE OF TV ADS HOLDING SENATORS DONNELLY, MCCASKILL ACCOUNTABLE FOR "NO" VOTES ON TAX REFORM
*In two new ads, individuals share how tax reform is improving their lives
*Grassroots group urging Donnelly and McCaskill to support hard-working families
Arlington, Va. – Americans for Prosperity (AFP) will launch Thursday the second wave of a major ad campaign in Missouri and Indiana, sharing stories from individuals in each state about how tax reform is benefiting them and highlighting U.S. Senators Joe Donnelly (IN) and Claire McCaskill's (MO) votes against the Tax Cuts and Jobs Act.
The grassroots group is investing nearly $4 million in TV and digital ads asking citizens to hold Senators Donnelly and McCaskill accountable by urging them to support policies that lead to higher paychecks for Indiana and Missouri families.
The effort expands on AFP's previous seven-figure investment on the same topic in February. (Read more). The new pair of ads will run on television and digital platforms across Indiana and Missouri in the coming weeks.
VIEW THE INDIANA AD HERE: https://bit.ly/2Inddyl
VIEW THE MISSOURI AD HERE: https://bit.ly/2FQiIqY
In the Indiana ad, a small business owner named Cathy shares how the tax cuts are allowing her to invest in her business. She expresses disappointment at the fact that Senator Donnelly voted against putting money back in Americans' pockets.
"Senator Donnelly just doesn't realize the impact that these tax cuts have on the everyday person, and the everyday business. Joe Donnelly let Hoosiers down," Cathy says.
In the Missouri spot, Lindsay, a working mother of three, shares her story about getting an email at work informing employees that they would receive a $2,000 bonus because of the Tax Cuts and Jobs Act.
"It is clearly helping middle-class and everyday-working Americans. When I heard Claire McCaskill describe the tax cuts as 'scraps,' I think it's disrespectful. Getting bonuses and tax cuts — that's huge for families like mine," Lindsay says.
The ads call on Senators Donnelly and McCaskill to "support bigger paychecks" for Hoosiers and Missourians.
Hardworking Americans are already seeing the benefits of the Tax Cuts and Jobs Act as hundreds of companies invest in their employees and communities by creating jobs and increasing wages. Senators Donnelly and McCaskill voted to deny individuals and families these benefits, choosing party over the well-being of citizens in their states.
This ad effort is part of AFP's campaign to hold accountable lawmakers who voted against the pro-growth reform.
AFP President Tim Phillips released the following statement:
"As more Americans see the benefits of tax reform, they are rightly concerned to learn that some lawmakers, like Joe Donnelly and Claire McCaskill, voted against tax relief for individuals and families.

Where Senator McCaskill sees 'scraps,' a working mom sees more money for groceries. Meanwhile, Senator Donnelly chose partisan politics over the opportunity to help workers and families in his state.

AFP is committed to holding opponents of tax reform accountable for seeking to deny individuals like Lindsey and Cathy the opportunity to improve their lives."
BACKGROUND: 
Senator Donnelly Said No To Tax Reform
Hoosiers Are Already Reaping The Benefits Of Tax Reform
Senator McCaskill Said No To Tax Reform, Describing The Benefits To Missourians As "Scraps"
Missourians Are Already Reaping The Benefits Of Tax Reform
For further information or an interview, reach Gabrielle Braud at GBraud@afphq.org or (571) 329-1846. 
Americans for Prosperity (AFP) exists to recruit, educate, and mobilize citizens in support of the policies and goals of a free society at the local, state, and federal level, helping every American live their dream – especially the least fortunate. AFP has more than 3.2 million activists across the nation, a local infrastructure that includes 36 state chapters, and has received financial support from more than 100,000 Americans in all 50 states. For more information, visit www.americansforprosperity.org
###