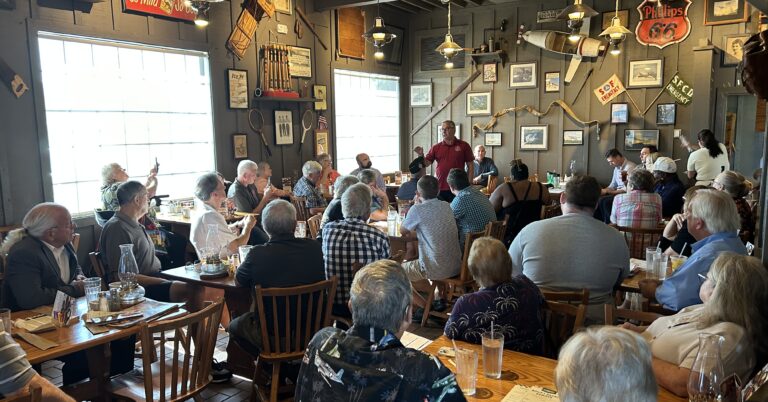 AFP Hosts 'Stopping Bidenomics' Breakfast in Shiloh
SHILOH, IL —Yesterday in Shiloh, Americans for Prosperity-Illinois hosted a breakfast to discuss how the disastrous top-down policies of Washington and Springfield create high prices and lower wages here in the Land of Lincoln.  
The breakfast, hosted at a Cracker Barrell in Shiloh, featured lawmakers Mike Bost, Amy Elik and Kevin Schmidt who each spoke to the group about how they're pushing back on Bidenomics: 
"Bidenomics is all about forcing Americans to pay the price for the president's liberal policies," said Congressman Bost. "Biden shouldn't be bragging about an agenda that has Americans paying $700 more per month than they did two years ago. He should be working day and night to fix the problem. At yesterday's AFP roundtable, we heard from Southern Illinoisans who are earning less and paying more at a time they can least afford it. That's why I'm fighting in Congress to restore common sense and fiscal responsibility." 
"Bidenomics is not working for Illinoisans. We are faced with high energy prices because of the flawed policies coming out of Washington and Springfield," said Representative Elik. "I enjoyed yesterday's meeting with AFP as we discussed policies that will help make Illinois prosperous."
 
"High inflation is continually hurting the hard-working families of our great state," Rep. Schmidt stated. "Still, the Democrats insist on spending more money. Accountability matters, and these families deserve to know that their hard-earned tax dollars are being spent efficiently. Why should we expect these families to tighten their budgets when the majority party isn't willing to do the same, instead giving themselves pay raises?"  
BACKGROUND: 
The Biden administration's reckless spending and regulatory agenda has Americans paying more but getting less. AFP's new 'Bidenomics is Broken' gives a voice to the countless people who know Bidenomics is failing their communities. Instead of more Biden big government, we will connect Americans with real solutions that unleash prosperity, encourage innovation, and empower individuals to achieve their potential. Learn more HERE.