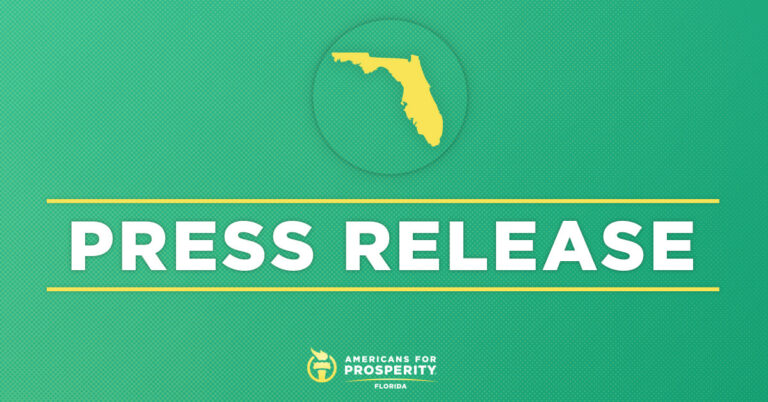 AFP-FL Launches Campaign Against $280 Million Sales Tax Hike
Grassroots group urges Hillsborough County residents to reject sales tax increase
Tallahassee, FL – Americans for Prosperity-Florida, the state's leading grassroots organization for economic freedom, today launched a campaign urging Hillsborough County voters to reject a ballot initiative that would impose a $280 million sales tax hike to fund transportation projects. A similar sales tax hike was struck down in 2010, with 58 percent of Tampa residents voting against the tax hike, and a 2016 attempt to place the issue on the ballot also failed.
The campaign includes a digital tool that directs Hillsborough County residents to sign a petition vowing to vote "No" to the sales tax hike.
AFP-FL State Director, Chris Hudson released the following statement:
"After repeated failures, tax and spend advocates are once again asking for a tax hike to pay for transportation projects. With very few details on how the money will be spent, taxpayers are essentially being asked to hand over a $280 million blank check. Instead of taking more money from families, tax proponents should ask why $90 million in taxpayer money is being spent on upgrades to the Buccaneers and Lightning arenas instead of transportation projects.
"Our state's tax-friendly environment has spurred our economy to new heights with the unemployment rate at a two-decade low and our economy expected to hit $1 trillion this year. We shouldn't undermine our economic success with new, burdensome taxes. We urge Hillsborough County residents to oppose this bad idea."
Background:
A recent study by the CATO Institute found a strong correlation exists between economic freedom and economic growth.
The CATO Institute released their "Freedom in the 50 States" rankings that study the policies that shape personal and economic freedom. The study recognized Florida s the freest state in the country. Florida ranked 1st overall, 1st in fiscal policy, 1st in economic freedom, and 2nd in education policy.