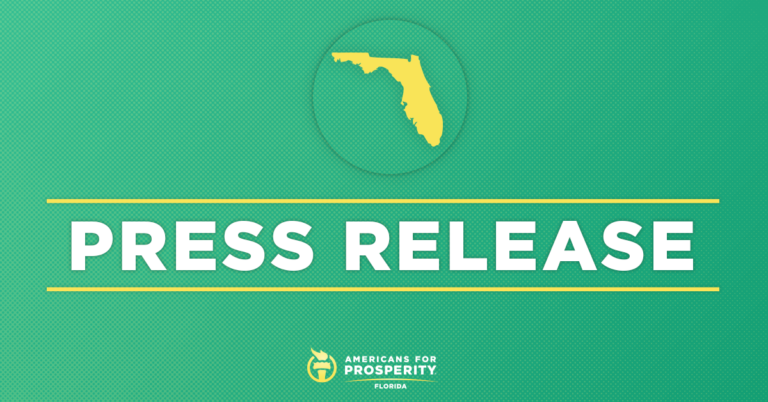 AFP-FL Applauds Gov. Scott's Call for Tax Cuts and Fiscal Restraint
Tallahassee, FL – Americans for Prosperity-Florida (AFP-FL), the state's leading grassroots organization promoting common sense tax cuts and fiscal restraint, is applauding Governor Rick Scott after delivering his final State of the State address today during a joint session with the Florida House and Senate.  Governor Scott discussed his commitment to work with the legislature to cut taxes further while Speaker of the House Richard Corcoran laid a framework for holding government spending in check.
AFP-FL state director, Chris Hudson released the following statement:
"Governor Scott has helped secure the fiscal future of the state by supporting common sense measures to empower businesses, entrepreneurs, and families to live their American Dream in the best state to call home. His commitment to cut taxes further will make our state more competitive and allow families to keep more of their hard-earned money. As the legislature takes on important policy discussions, we will be there to help hold the line on government spending and to promote free market principles. We are looking forward to a successful 2018 legislative session that will hopefully continue on the successes of the past few cycles when lawmakers have cut corporate welfare, expanded school choice, and shrunk the size and scope of government."
This week, AFP-FL will release a complete list of the proposed legislative bills that it will support or oppose. The group has also sent key vote letters to members urging them to support key legislation. AFP-FL will score votes on these key bills in the group's annual Economic Freedom Scorecard.
Last week, AFP-FL launched the first of four direct-mail piece that will hit mail boxes over the first two weeks of 2018. Their grassroots partners at Generation Opportunity (GenOpp) also launched an effort to eliminate so-called "free speech" zones on college campuses that actually limit free speech. The non-partisan group is consistent in holding legislators accountable for the bills they sponsor and the votes they take.
AFP-FL state director, Chris Hudson also laid out the group's priorities for 2018 in an open letter that ran in the Tallahassee Democrat, Florida Today, Naples Daily News, and Ft. Myers News Press. Hudson reminds Floridians that "Last year, our legislators kept many New Year's resolutions: trimming the fat from the state budget, making sure taxpayers kept more of their hard-earned money, and expanding educational opportunity for children across the state," and that "This session, there are several legislative proposals that would maintain the steady momentum toward a more efficient and effective state government." Those proposals include expanding Direct Primary Care, cutting spending and corporate welfare, and continuing to promote common sense health care, education, and labor reforms.