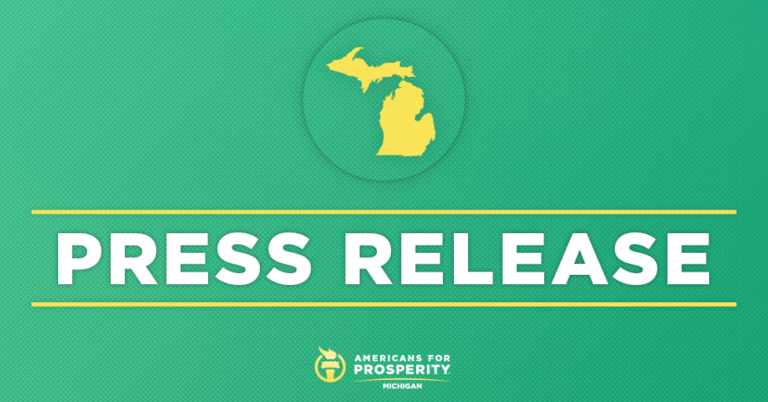 AFP-MI Endorses Policy Champions for Michigan Legislature
Lansing, Michigan—Americans for Prosperity-Michigan (AFP-MI) today announced support for candidates running to serve in the Michigan state legislature.
Jay DeBoyer, Josh Schriver, Cam Cavitt, Bill Schuette, and Jaime Greene have all earned AFP-MI's endorsement for their commitment to policies that will protect taxpayers, prioritize freedom, and expand access to quality, affordable health care, and unleash energy abundance in Michigan.
Incumbent candidates State Rep. Andrew Beeler and State Sen. Pamela Hornberger also earned AFP-MI's endorsement for reelection.
AFP-MI State Director Annie Patnaude made the following statement following the announcement:
"Michiganders are ready for a responsive and accountable Lansing. AFP-MI is excited to endorse these exceptional candidates who are going to make a difference for the Great Lake State. From pushing back against big-government overreach to making Lansing live within its means, each and every one of these candidates is willing and able to fight for Michigan taxpayers and families, who are desperate for change.
"In addition to announcing support for these candidates, we are continuing to mobilize our grassroots to knock doors and make calls in continuing support of Sens. Jim Runestad, Aric Nesbitt, Dan Lauwers, Lana Theis, and Rep. Andrew Fink."
Background
Jay DeBoyer
Jay DeBoyer is a first-time candidate running to represent Michigan's 63rd House District. Michigan voters can look to him to be a strong voice against wasteful government spending. For eleven years, he has served as the St. Clair County Clerk and also served as the supervisor of Clay Township. This experience in local government will be invaluable when he turns his attention to Lansing.
Jaime Greene
Jaime Greene currently serves on the Richmond City Council and is running to represent Michigan's 65th House District. A veteran, homeschool mom, and local government official, voters can rely on Greene to fight for the students of Michigan on matters of educational choice and work to remove regulatory barriers that dampen Michigan's economy.
Josh Schriver
A former kindergarten teacher and specialist in helping children with autism, Josh Schriver is going to be well positioned to advocate for the individualized learning that every Michigan student needs and deserves. He also understands that state desperately needs a balanced budget and tax reform to unleash Michigan's true potential.
Cam Cavitt
Cam Cavitt is running to represent Michigan's 106th House District. Michigan voters can rely on him to advance policies that will expand access to affordable health care, lift burdensome energy regulations, and advance worker freedom.
State Rep. Andrew Beeler
State Rep. Andrew Beeler is running for reelection to Michigan's 64th House District. He a champion for Michiganders on health care and taxes. He founded the Taxpayer Protection Caucus and introduced legislation to encourage Congress to permanently extend federal tax cuts. He also introduced legislation to lift certificate of need requirements that unnecessarily limit access to critical health care facilities.
Bill G. Schuette
Bill G. Schuette is a first-time candidate running to represent Michigan's 95th House District. Michiganders can look to Schuette to champion worker freedom, taxpayer protection, and responsible state spending. A former intelligence officer for the Defense Intelligence Agency, Schuette is a patriot who takes his commitment to his country and future constituents very seriously.
State Sen. Pamela Hornberger
State Sen. Pamela Hornberger is running for reelection to Michigan's 12th Senate District. She serves as chair of the Education Committee and will likely use her position to advance the creation of education savings accounts for Michigan's students. She also champions worker freedom and the right to work, as well as removing barriers that make it harder to enter well-paying professions.
-###-