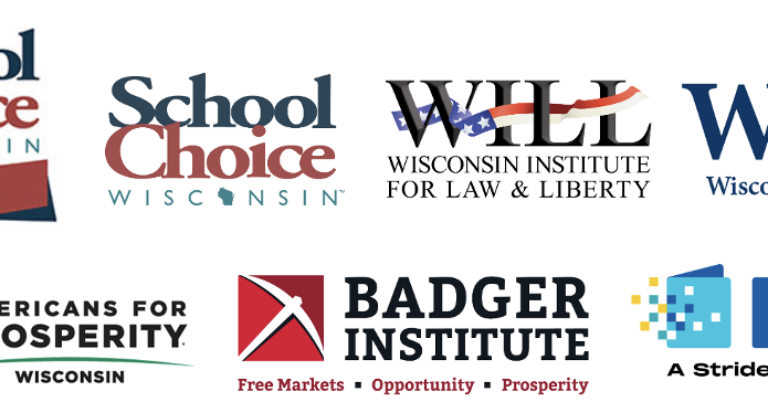 Wisconsin Coalition for Education Freedom Launches Multi-Media Push to Support School Choice Efforts
MADISON, Wis. – The Wisconsin Coalition for Education Freedom is launching a multi-media campaign to push back against a one-size-fits-all approach to the state's education system. Among the tactics is a website – WisconsinEducationFreedom.org – which hosts a variety of resources and engagement opportunities to advance school choice policy goals in Wisconsin.
The Coalition, which began its work on policy development a year ago, has spent the last month meeting with elected officials, families, community groups, and others in preparation for the 2023-2024 legislative session – comprising six organizations with a unified voice on educational reform. Coalition partners include: Americans for Prosperity (AFP) Wisconsin, the Badger Institute, K12/Stride, School Choice Wisconsin/School Choice Wisconsin Action, the Wisconsin Institute for Law and Liberty (WILL) and Wisconsin Manufacturers and Commerce (WMC).
"A family's freedom to choose the best education for their children should never be blocked by arbitrary barriers such as how much money they make or what ZIP code they live in," said Eric Bott, AFP Regional Vice President. "We must remove barriers and empower all students and families to find the school that suits their needs and puts them on a path towards prosperity."
"Too many young people in Wisconsin are unprepared for the workforce and the current education system is leaving them behind," said Rachel Ver Velde, WMC Senior Director of Workforce, Education and Employment Policy. "Wisconsin's employers support expanding school choice so every child has access to a quality education. WMC is proud to partner with our other Coalition members to change the status quo."
"School Choice Wisconsin will continue to advocate for education freedom, working side by side with Coalition partners to build statewide support and appreciation for parent choice in Wisconsin," said Amy Loudenbeck, Director of Policy and Government Affairs at SCW. "This new website is a great tool to amplify our message to legislators with links to the Coalition's budget and policy agenda, research, and supporting materials that anyone can access to get informed and get involved."
"WILL is proud to stand strong alongside our partners and stakeholders across Wisconsin to promote school choice for all," said Will Flanders, PhD, WILL Research Director. "Gov. Evers made it clear that he'll propose a freeze in school choice enrollment tonight, undermining Wisconsin families' education freedom and defying common sense. Fundamentally, when choice and competition are brought into education, students win."
"We've seen this approach before from Gov. Evers and once again it will go nowhere," said Michael Jahr, Vice President for Communications and Government Relations at the Badger Institute. "The focus of the Coalition will be to work with lawmakers to find solutions that actually allow them to make the best education choices for their children."
The multi-media campaign, including the brand-new WisconsinEducationFreedom.org website, is made possible by a grant that was awarded to the Coalition in December. The launch comes ahead of Gov. Tony Evers' budget address in which he is expected to announce limitations to Wisconsin families' access to educational opportunities.