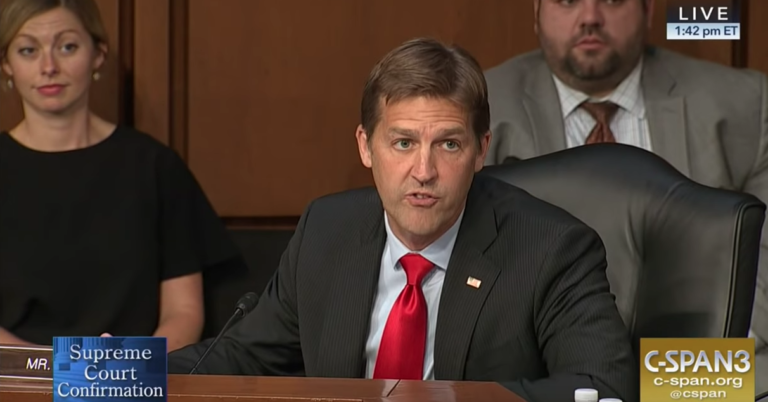 "Why Do We Talk Like This About Supreme Court Nominations?" Ben Sasse Has the Answer.
Buried in the political theatre during Judge Brett Kavanaugh's Supreme Court confirmation hearings last week was a lesson we all need to hear.
During opening statements, Sen. Ben Sasse used his time to elevate the conversation to discuss why Supreme Court hearings have devolved into such a circus.
"We have a fundamental misunderstanding of the role of the Supreme Court in American life now," Sasse told a room of politicians, reporters, Hill staff, supporters and protesters.
Sasse went on to give America "the civics lesson it desperately needs" as one Washington Examiner contributor put it.
Sasse criticized the legislative branch for "punt[ing] most of their work to the next branch." He called out legislators for being too lazy or unwilling to do their jobs.
Congress's refusal to fulfill their constitutional duties leaves the people looking to the executive and judicial branches to legislate. That is not what the Founders intended, and that is not healthy for our country. Sasse followed up with these comments in the Wall Street Journal:
The solution is not to try to find judges who will be policy makers or to turn the Supreme Court into an election battle. The solution is to restore a proper constitutional order with the balance of powers. We need a Congress that writes laws, then stands before the people and faces the consequences. We need an executive branch that has a humble view of its job as enforcing the law, not trying to write laws in Congress's absence. And we need a judiciary that applies written laws to facts in cases that are actually before it.
We need to stop relying on the courts to make political decisions. We need qualified judges who will interpret the laws according to the Constitution and won't legislate from the bench. Kavanaugh would be that kind of judge.
Tell your senator to confirm him to the Supreme Court!