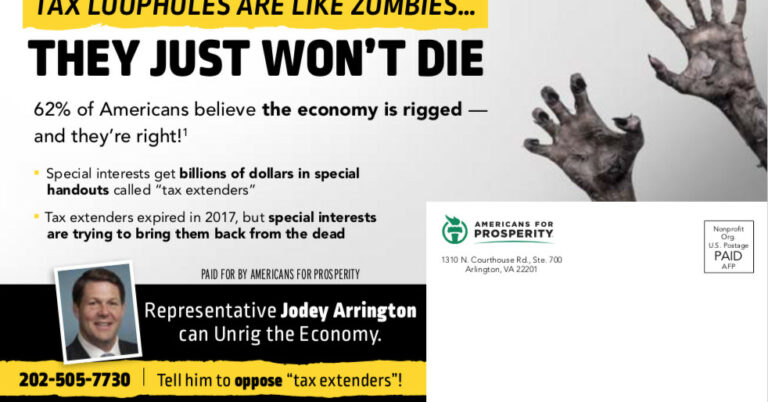 "Unrig the Economy" Campaign Aims to End Government Favoritism
Americans for Prosperity-Texas encourages lawmakers to work together to level the playing field for all Americans
DALLAS, Texas ­– Americans for Prosperity-Texas (AFP-TX) today highlighted its role as part of a multi-year, multi-million-dollar campaign to encourage lawmakers to "Unrig the Economy" and level the economic playing field for every American. The campaign will harness the power of AFP-TX's grassroots activists to drive needed policy change at both the state and federal level.
According to a recent Washington Post/ABC News poll, 62% of Americans say the U.S. economic system mainly benefits those in power versus only 34% who feel it mainly benefits all people.
AFP-TX has a long track record of successfully opposing policies that favor the well-connected at the expense of everyone else – most recently by opposing proposed tax abatements.  AFP-TX is now unleashing its full capabilities to stop this rampant culture of cronyism from Austin to the halls of Congress.
AFP-Texas State Director Jerome Greener released the following statement:
"We're calling on Texas' representatives in Washington to level the economic playing field. For too long politicians have picked winners and losers and rigged the economy against everyday Americans through subsidies, selective tax breaks, and regulatory barriers. We hope this campaign encourages our lawmakers to end policies that favor special interests over their constituents and give every Texan an equal shot at their American dream."
In the initial phase of the campaign in Texas, AFP launched a robust direct mail and digital effort calling on Texans to contact Texas members on the House Ways and Means and Senate Finance committees to stop the renewal of so-called "tax extenders", special-interest tax breaks that expired at the end of 2017, currently under consideration. Targets for this initial phase are Lloyd Doggett, Kevin Brady, Kenny Marchant, Jodey Arrington, and John Cornyn.