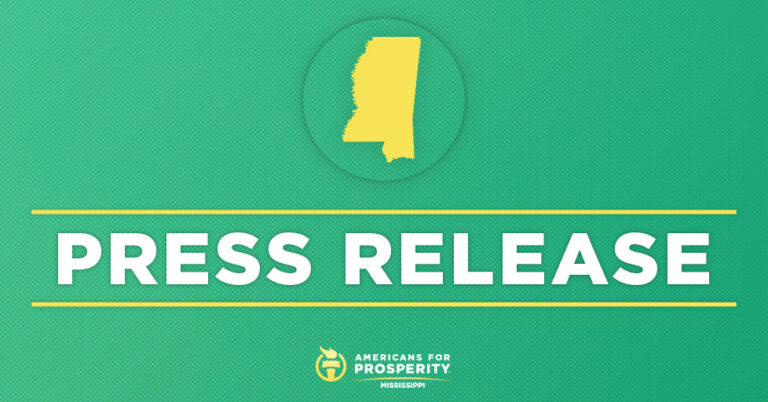 Trey Dellinger to Head Americans for Prosperity's Mississippi Chapter
JACKSON, Miss.—Americans for Prosperity-Mississippi (AFP-MS), the state's leading grassroots advocacy organization, on Monday announced Trey Dellinger as its new state director. Trey will succeed outgoing State Director Russ Latino, who has accepted a Vice President position with AFP, overseeing economic policy initiatives nationally.
"I am incredibly honored by this opportunity," said Dellinger. "At Americans for Prosperity, we want to remove barriers so that every Mississippian can have a clear path to run hard after their dreams."
"America was the first country in the world founded on a proposition: that ordinary people should have the freedom to make the most of their innate talents. Our staff and volunteers are dedicated to making that proposition a reality for every Mississippian."
"Trey couples a deep commitment to creating an environment in which people of all backgrounds can thrive and the unique talents to make that commitment a reality," said Latino. "We are excited to see how he builds on past success to take the organization to the next level in Mississippi."
Prior to joining Americans for Prosperity, Trey spent more than 20 years in private law practice, the last 17 of which were with the Wells Marble firm where he defended businesses and individuals from civil lawsuits. Trey was consistently ranked a top lawyer amongst his peers and by professional rating groups. In 2015, Trey was selected by the Mississippi Business Journal as one of Mississippi's Top 40 attorneys for Leadership in Law.
Before entering the practice of law, Trey earned his undergraduate degree in Physics magna cum laude from the University of Mississippi in 1992 and the J.D. cum laude from the University of Mississippi School of Law in 1996, where he received the Robert W. Upchurch Award for Excellence in Federal Jurisdiction.
Trey has long been active in the state and community. He served as Government Relations Chairman for the Madison County Business League and Foundation, and on the boards of the Mississippi Council of Economic Education and the Ridgeland Chamber of Commerce. Trey also served on the Madison County Republican Executive Committee prior to joining AFP.