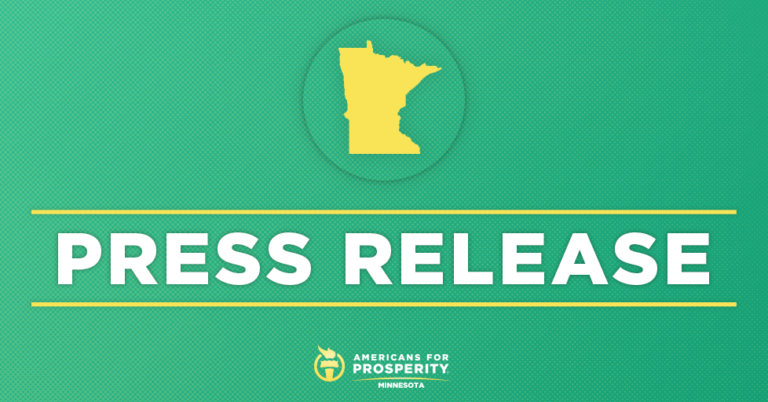 Statewide Digital Campaign Urges Lawmakers to Oppose New Taxes
ST. PAUL, MN – With only a few days remaining in the 2019 Legislative Session, Americans for Prosperity-Minnesota (AFP-MN) this week launched a statewide digital campaign and ramped up volunteer activities urging legislators to oppose reinstating the $750 million provider tax and oppose any increase in the state's gas tax or transportation fees.
Both the digital ad campaign and volunteer activities are designed to connect Minnesotans with their lawmakers to make their voice is heard during critical end-of-session negotiations.
"Legislators have a great opportunity to protect Minnesotans from rising health care costs by rejecting this unnecessary $750 million health care provider tax. Trying to decrease health costs by increasing health care taxes is not a viable solution," said Jason Flohrs, AFP-MN State Director. "We are making sure Minnesotans' voices are heard that increasing taxes and fees on transportation and making health care more expensive is a nonstarter for Minnesota families."
"Now is not the time to raise taxes – on anything," Flohrs said. "Just throwing more money into the same big government solutions that are currently rampant with mismanagement and overspending, while doing nothing to reform or add accountability, will make Minnesota a less competitive, less prosperous, and less desirable place to live and work."
Background:
Over the course of the legislative session, AFP-MN has been at the forefront of protecting Minnesotans from harmful tax increases. The grassroots group has issued mail, run digital ads, and called and texted Minnesotans encouraging them to tell their lawmaker to oppose reinstating the gas tax and provider tax.
Click here to read State Director Jason Flohrs' op-ed on Governor Walz's budget and proposal to reinstate the provider tax in the Forum of Fargo-Moorhead.
Governor Walz's High Tax Budget Continues Fiscal Mismanagement, 2/19/19
AFP-MN to House HHS: $750 Million Provider Tax Makes Health Care More Costly, 4/2/19
AFP-MN to Legislators: Reject $1 Billion Tax and Fee Increases, 4/3/19
Transportation Omnibus Bill Punishes Minnesotans with Higher Taxes on Gas, Everyday Items, 4/28/19