Please select your state
so that we can show you the most relevant content.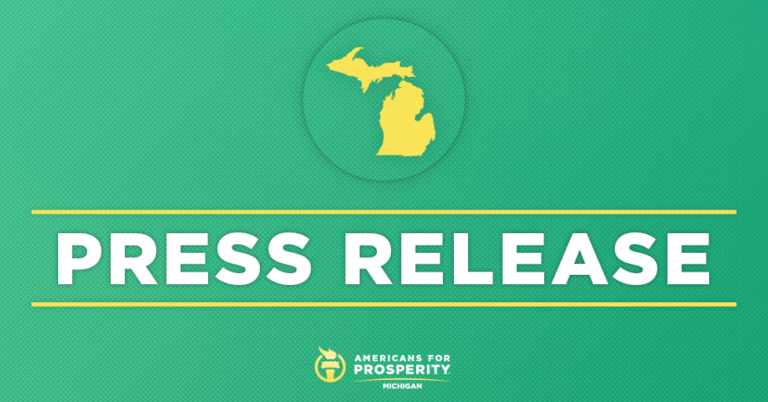 Grassroots, Business Leaders Pressure Lawmakers to Reject Corporate Handouts Amid Pandemic Lame Duck
Lansing, Mich. — Americans for Prosperity-Michigan's (AFP-MI) statewide grassroots network is encouraging lawmakers to reject the revival of a corporate cronyism program that benefits a handful of businesses at the expense of hardworking Michiganders.
Known as "Good Jobs for Michigan," SB 492 would re-instate a corporate tax incentive plan that would set aside $500 million worth of state revenue and make it available to a few select large corporations over the next four years. The plan would also allow select businesses to take up to 100% of the income taxes generated under the scheme for 10 years.
State Director Annie Patnaude had this to say: 
"Corporate handouts are always bad policy,  but SB 492 is especially bad. Lawmakers should not be setting aside $500 million for a few politically-connected corporations at a time when our small businesses are going bankrupt. If anything, these funds should be going to critical priorities like infrastructure, education, and helping our families and businesses recover from the economic shut down.

"Again and again we see that these programs are ineffective, expensive, and unfair. Michigan needs solid public policies that put all businesses on a level playing field and encourage bottom-up solutions to get our economy back on track. Unfortunately, cronyism continues to be a bipartisan bad idea in Lansing, so we're encouraging legislators on both sides of the aisle to reject this bill."
AFP-MI's grassroots effort has included calls to legislators and public awareness campaigns via social media and traditional mail in key Senate districts around the state. The group's push comes amid an increase in similar pressure from business leaders in the state, including a Detroit News Op-Ed co-authored by Dick Devos last week.
© 2023 AMERICANS FOR PROSPERITY. ALL RIGHTS RESERVED. | PRIVACY POLICY