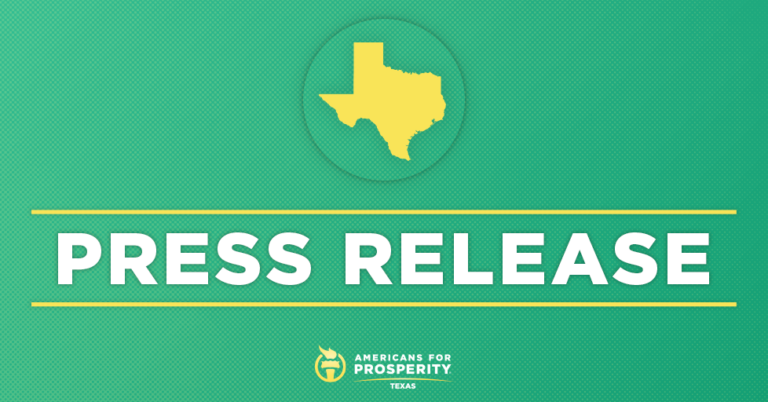 READOUT: Rep. Kevin Brady Discusses Tax Reform 2.0 with AFP Activists
House Ways and Means Chairman tells AFP activists to expect a vote on tax permanence by early fall
CONROE, TX –House Ways and Means Committee Chairman Kevin Brady recently joined Americans for Prosperity President Tim Phillips, AFP Chief Government Affairs Officer Brent Gardner and activists from AFP – Texas to discuss the American Pay Raise and elaborate on plans for future tax reform.
A SNEAK PREVIEW OF TAX REFORM 2.0:
Looking ahead, Brady discussed the next steps to preserve tax reform's benefits and laid out a timeline for the next phase of tax reform.
I think the best is yet to come…we're talking about tax reform 2.0.
First, tax reform will be led by permanence. Our family tax cuts and small business tax cuts. We [need to] make them long term…
We want to take the same approach we did with [previous] tax reform, which means will have the committee produce a draft and then we will go to committee and listen to the best ideas presented. … That will happen in committee in June.
In July, we will listen to our conference and introduce the bill before we leave for August [recess]. Hopefully leadership will bring it to a vote in September or October. From there, it'll move to the Senate, so they may have a different timetable. But I see an early fall passage in the House.
BRADY THANKS AFP ACTIVISTS
First let me thank AFP – you played a key grassroots role [in advancing tax reform]. You laid out the grassroots campaign before we passed [tax reform] …and after we passed it, you went out again to talk about why Americans are keeping more of what they earn.
Brady elaborated on how the American Pay Raise has boosted our nation's economy, helping everyday Americans:
We got it right for the middle class in a big way. We're seeing paychecks rising in the first quarter faster than they have in more than a decade.
RALLYING FOR TAX REFORM:
Brady urged AFP activists to share the positive news about tax reform's benefits with their friends and neighbors, stressing:
We need to make sure families know we [Congress, through tax reform] are fighting for their paychecks. We've unleashed business investment, but now we need to unleash individual investment. We have a big challenge right in front of us – because a lot of Americans don't know. 
Chairman Brady concluded his discussion with a few final thoughts:
All these reforms are fragile. We have to fight to keep them. Liberals are already coming after them. The mainstream media is not going to cover any of the benefits from tax reform. It has to come from the grassroots.
In the months ahead, AFP will continue our strong grassroots efforts to urge Congress to continue passing bold, pro-growth tax reform that will increase prosperity and economic opportunity for everyday Americans.
Watch the full discussion with Chairman Brady, available here.