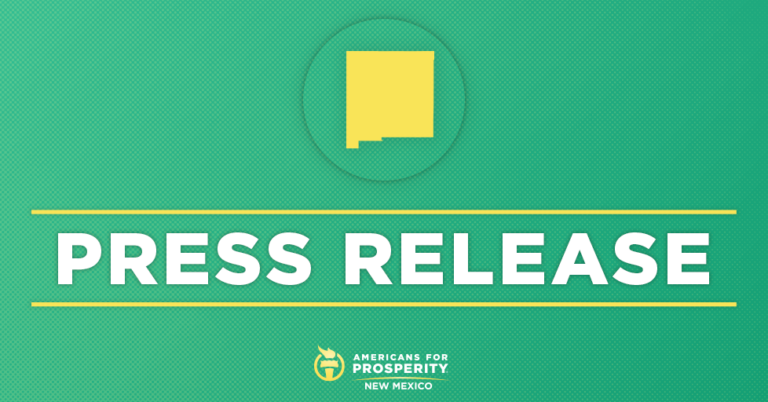 Press: AFP Hosts Right-to-Work Rally with Mark Janus
SANTA FE, N.M. – Americans for Prosperity-New Mexico (AFP-NM) will host a Right-to-Work Rally at the Capitol on Friday, February 22, to promote the benefits of worker freedom and local right-to-work policies. Guest speakers include former union leaders as well as Mark Janus, the plaintiff in the landmark worker freedom U.S. Supreme Court case, Janus v. AFSCME. To date, almost a third of New Mexico's counties have passed local right-to-work ordinances.
NM Right-to-Work Rally at the Capitol
Friday, Feb. 22, 11:30 a.m.-12:30 p.m.
Capitol Building Steps East Concourse (The Roundhouse)
320 Paseo de Peralta, Santa Fe, NM 87501
"I fought all the way to the U.S. Supreme Court to free government workers from paying unions they don't support," said Mark Janus. "All workers deserve the right to earn a living without being forced to pay a union."
"Worker freedom lets New Mexicans keep more of their paycheck and creates more opportunity for our workforce," said AFP-NM state director, Burly Cain. "One by one, New Mexico's counties are protecting and discovering the benefits worker freedom will have, and we hope lawmakers come together to empower workers, entrepreneurs, and families to achieve their American Dream."
Key speakers include:
Mark Janus, the public employee who defended his rights at the U.S. Supreme Court – and won
Michael Thulen Jr., the former four-year AFSCME local president from New Jersey
John Coskey, Former Trustee of Teamsters Local 385 FL
More to come
AFP-NM has been at the forefront of the push for right-to-work policies in the state, having launched in 2017 the "New Jobs New Mexico" campaign, a multilayered grassroots campaign to educate citizens about the impact of right-to-work. Sandoval, Otero, Lincoln, Chaves, Eddy, Roosevelt, Lea, San Juan, Sierra, and McKinley counties, as well as the village of Ruidoso, have already passed local right-to-work ordinances. Together, these counties represent almost a third of New Mexico's 33 counties.
Media are encouraged to attend. For more information please contact LIsidro@afphq.org.
For further information or an interview, reach Lorenz Isidro at LIsidro@afphq.org or (703) 887-7724
Through broad-based grassroots outreach, Americans for Prosperity (AFP) is driving long-term solutions to the country's biggest problems. AFP activists engage friends and neighbors on key issues and encourage them to take an active role in building a culture of mutual benefit, where people succeed by helping one another. AFP recruits and unites New Mexicans behind a common goal of advancing policies that will help people improve their lives. For more information, visit www.americansforprosperity.org
###