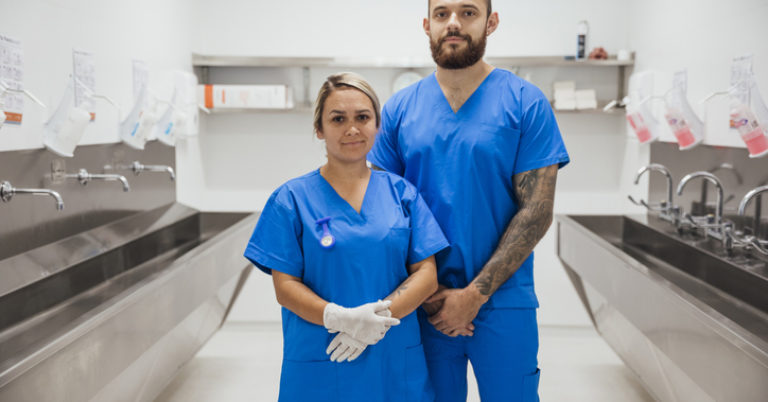 Our medical professionals are on the front lines of COVID-19 saving lives – but West Virginia's certificate-of-need law is still preventing patients from getting the care they need
West Virginia's health care professionals are hard at work addressing COVID-19 and treating the medical needs of patients across the state. Now more than ever, it's essential that these frontline workers have all the tools at their disposal in this fight.
To talk about the needs of health care workers, Heather ONeal, a nurse midwife with Wise Women Health Care, sat down for a Zoom call in late April with Americans for Prosperity-West Virginia State Director Jason Huffman.
ONeal spoke about how many pregnant women during the COVID-19 crisis find it too risky to give birth in hospitals. Instead, they're opting to have their babies at home under the supervision of board-certified midwives.
The option to enlist the help of a midwife during in-home childbirth saves lives, ONeal says, recalling one instance in which she was able to treat a patient's severe complications during birth.
[One patient] had a postpartum hemorrhage and she bled 1,500 cc in under nine minutes. If we hadn't been there with our emergency medications, and known exactly how to sweep a uterus manually, I don't really know how she would have made it.

…

I think anybody [present during the birth] is going to be better than nobody, particularly a trained person. Your chances for maternal and infant mortality go way down if you have a trained birth worker there with you. We were really happy that we were able to provide that care for her, just right under the wire — she was a late transfer for us — and possibly saved her life because of it.
ONeal expressed concern that state regulations — such as West Virginia's certificate-of-need law — could prevent more women worried about giving birth in hospitals from giving birth at home. CON restrictions keep additional providers out of the market, decreasing access to critical health services.
The certificate of need is … a permission slip to compete in health care. So if you want to open a health care facility, you basically have to fill out a very lengthy application, pay exorbitant applications fees to go before a committee, and get approved by the West Virginia Health Care Authority. And hopefully you get approved. That process can take months — and who knows if you're going to get approved or not? And your application fees are nonrefundable.

…

We don't become midwives because we want to become businesspeople. Midwives that are in business for themselves — that is a huge undertaking for them to not only figure out how to build a business, but then how to get around this huge barrier, the certificate of need, and really fight the whole system that's pretty antiquated and not up-to-date at all with what women need, especially in rural areas.
"Part of the requirement for certificate of need is that you have to prove that your population needs it," ONeal added. "You would think in a state like West Virginia, where we're so rural, that that would be a no-brainer."
"It's very daunting to take on the task of trying to get a certificate of need. And I think it needs to go."
West Virginia's CON law has consistently stood in the way of greater access to quality care for patients. Earlier this year, West Virginia's CON board shuttered an urgent care clinic simply because it didn't possess a CON permit that it didn't need when it first opened.
During its application for a CON permit, the clinic's direct competitor submitted a complaint to the board, forcing it to withdraw its application or face months of hearings, rulings, and appeals.
Meanwhile, 53 of West Virginia's 55 counties suffer health care shortages. That is why Americans for Prosperity-West Virginia has urged Governor Jim Justice to suspend the state CON law and for lawmakers to repeal CON outright, requests particularly urgent in response to the COVID-19 pandemic.
Watch the full interview with Heather ONeal and Jason Huffman to learn more about how West Virginia's medical professionals are saving lives. 
Then learn more about the Health Care Reimagined campaign and what we're doing to improve the state of care for all Americans, now and in the future.