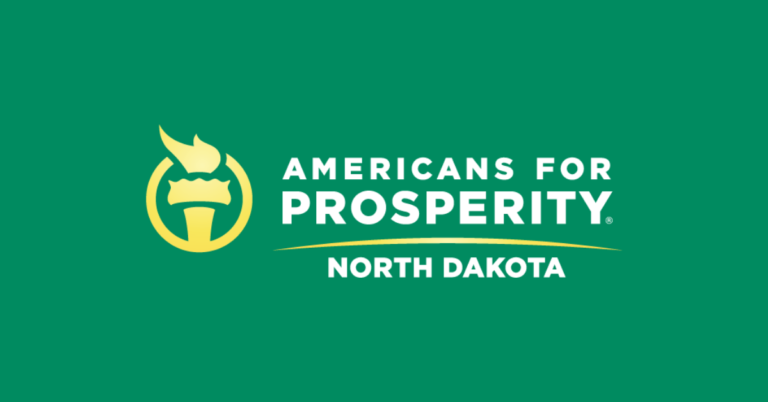 North Dakota Legislative Update: What's Happening in Bismark
North Dakota lawmakers have been in session for about a month now — and the AFP-ND team has been hard at work, fighting for policies that will help people improve their lives.
I know not everyone can be in Bismarck on the front lines or attend every event we have. But I do want to keep you in the loop about what's happening at the capitol.
There are four issues we've been focusing on, so far: blue laws, occupational licensing, criminal justice reform and educational opportunity.
Blue Laws 
Amazon is a retail competitor that never sleeps, take vacations or week-ends off.  So let's get out of the way of business owners and let them decide what's best for their business and repeal the states "blue laws" that restrict being open on Sundays.  I recently testified in Bismarck about how, with blue laws, the government can needlessly intervene in private business decision-making. That's something AFP-ND has always opposed, and we'll continue to do so until these unfair laws are overturned.
Want to get involved? Come to the AFP-ND Fargo Field Office (17 8th St. S, Fargo) on Feb. 23 for a phone bank and bean bag tournament!
Contact Abigail Christiansen to sign up: 701-371-1782 or AChristiansen@afphq.org.
Occupational Licensing
Let's remove barriers for the people who want to work.  Laws in North Dakota demand hair-braiders obtain a cosmetology license which requires 1800 hours of training.  We applaud the North Dakota House for working to remove this egregious barrier to the free market. These types of occupational licensing requirements are nothing but a barrier that creates an uneven playing field. I recently testified in Bismarck to emphasize the fact that it is an unfair, unnecessary regulation.
Thankfully, House Bill 1345, which addresses this issue, resoundingly passed the House last week. Now, it will move on to the Senate!
Criminal Justice Reform
Civil asset forfeiture, although originally developed with good intentions, unfairly targets lower income individuals and allows the government to seize your property without charging you with a crime. We support law-enforcement and their ability to seize assets in the scope of their duties.  However, we believe in due process and assets need to be returned to the rightful owners in the absence of a guilty verdict or charges filed.
Which is why AFP-ND signed a coalition letter in support of House Bill 1286. This bill would:
Require that proceeds from civil asset forfeiture go to the state school fund instead of the law enforcement agency's bank account.
Strengthen due process for property owners.
Require law enforcement officers to report on civil asset forfeitures.
Educational Opportunity
Giving families in North Dakota the opportunity to select the educational pathways that best fits the individual needs of their children is one of our priorities this year.
Stay tuned for details about what you can do to help in that effort! Be sure to follow AFP-ND on Facebook to get the latest info on your timeline!
Keeping checking your email and our Facebook page for more information on what's happening in Bismarck! Until then, keep up your hard work!
For Freedom,
Michael Fedorchak
North Dakota State Director
Americans for Prosperity