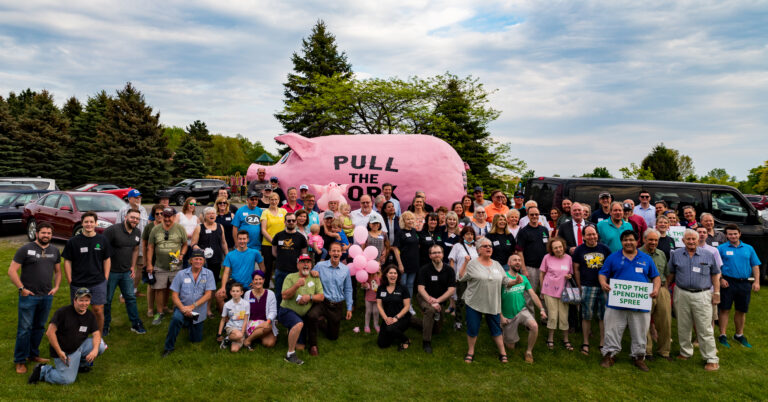 Michigan state chapter warns U.S. not to take a detour with wasteful spending

As Congress and the White House go back and forth on the cost of an expensive partisan wish list packaged as an infrastructure proposal, Americans for Prosperity state directors and staff are working to steer their lawmakers away from this wasteful scheme and toward effective reforms.
Americans for Prosperity-Michigan State Director Annie Patnaude teamed up with state Senator Aric Nesbitt for a Crain's Detroit Business op-ed explaining why President Joe Biden's spending plan disguised as an infrastructure plan is just another example of top-down government overreach.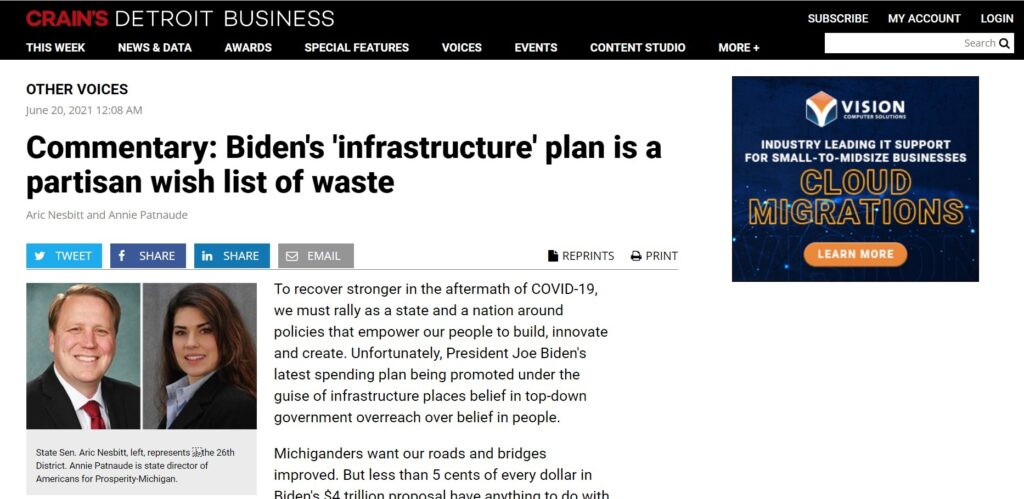 "Michiganders want our roads and bridges improved. But less than 5 cents of every dollar in Biden's $4 trillion proposal have anything to do with the roads, bridges, and primary infrastructure that we depend on," Patnaude and Nesbitt write. "Instead, it is a grab bag of bad ideas we've seen too many times before."
More than $1 trillion would be wasted on corporate welfare and handouts to politically favored businesses, government agencies, and labor unions.
None of that would build a road or repair a bridge.
"But make no mistake — people and small businesses across Michigan will pay for it, including our share of the $2.75 trillion in tax increases the proposal includes," the authors point out.
If this all seems a bit too familiar to Michiganders, it's because we've seen it all before.
"Gov. Jennifer Granholm, now Biden's secretary of Energy, raised taxes to pay for special tax deals and subsidies to prop up failed schemes for jobs that never materialized. She advanced similar green energy giveaways and mandates. Instead of revitalizing our economy, her approach compounded a national recession."
Using postcards — and pigs — to stop the spending spree
In addition to taking to the op-ed pages, AFP-Michigan has launched a 20-stop tour to highlight the bloat in the president's proposed "infrastructure" package.
Recent tour stops included visits to Representatives Elissa Slotkin and Haley Stevens, where activists dropped off oversized postcards signed by constituents in each lawmakers' district. On the postcards, signers voiced their concerns about wasteful Washington spending.
Joining volunteers was a 10-foot pig emblematic of the need to "pull the pork" out of infrastructure spending.
"Given that President Biden's proposal spends 95 percent on partisan pork and only 5 percent on roads and bridges, it seems like a stretch to call it an 'infrastructure' plan," Patnaude said in a statement.
"Rep. Slotkins and Stevens' constituents have a right to speak up and voice their opposition," Patnaude said. "They should listen to their concerns."
Read more here about how Michigan bounced back through tax cuts and spending restraint, and how the U.S. should not take the same wasteful economic detour Michigan took.