Please select your state
so that we can show you the most relevant content.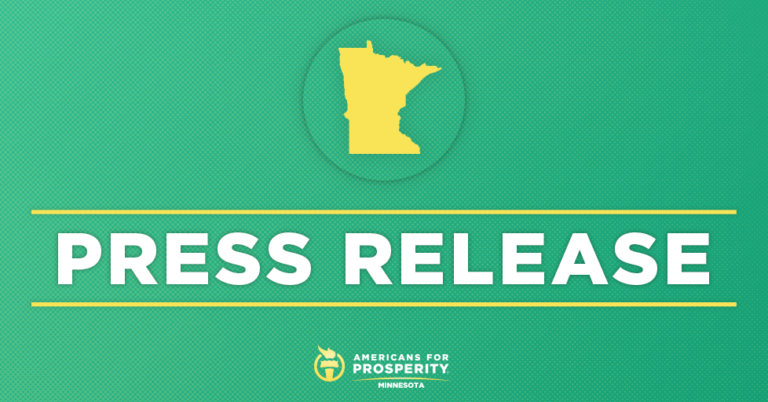 MEDIA ADVISORY: Rep. Pete Stauber Joins AFP-MN for Conversation on Justice Act
ST. PAUL, MN – Americans for Prosperity-Minnesota (AFP-MN) announced it will host a Facebook Live with U.S. Representative Pete Stauber (MN-08) tomorrow, Friday June 26th, at 11 AM on the Justice Act. Rep. Stauber, who has more than 20 years of experience as a police officer in Duluth, is the lead House sponsor of the Justice Act, legislation that would improve policing standards.
Criminal justice reform remains a top priority for Americans for Prosperity-Minnesota at both the state and national level. The grassroots group recently released a letter to state lawmakers with reforms that will bring needed changes to  policing standards and the criminal justice system.
WHAT: Facebook Live on Justice Act
WHO: Congressman Pete Stauber
Americans for Prosperity-Minnesota State Director Jason Flohrs
WHEN: Friday, June 26th
11:00AM CST
WHERE: AFP-MN Facebook Page
https://www.facebook.com/AFPMinnesota/
All media are invited to attend.
Background:
The Justice Act implements the following reforms:
Requires state and local governments receiving certain federal funds to report all use of force events that cause serious injury or death or where there's a firearm discharged to the FBI Use-of-Force Data Collection. This publicly available data would include incident information, subject information, and officer information.
Requires state and local governments receiving certain federal funding and federal law enforcement to report to the attorney general information on each no-knock warrant carried out and denies certain federal funding for law enforcement agencies (LEAs) that do not have an updated policy on chokeholds that only allows their use in situations when deadly force is authorized by law.
Creates a new crime of "false reporting" when a person knowingly and willfully falsifies a police report to cover-up a civil rights violation where death or serious bodily injury occurred.
Incentivizes transparency, proper training, and accountability by offering grants for clear body camera guidelines and programs and requires state or local governments to maintain a system for sharing disciplinary records and requiring their consideration when making hiring decisions.
Includes the creation of the Commission on the Social Status of Black Men and Boys to better understand the unique conditions black men and boys face in regards to education, health care, criminal justice, and financial inequities.
Requires the DOJ Community Oriented Policing Services (COPS) to develop curriculum and certification standards for training regarding use of force, de-escalation, and responding to behavioral health crises.
Requires the AG to develop training for local and state law enforcement regarding officers intervening when another officer engages in excessive use of force. Establishes the National Criminal Justice Commission to undergo a comprehensive review of the criminal justice system.
Addresses hiring disparities in law enforcement.
Rightly criminalizes federal law enforcement engaging in sexual acts with an individual who is under arrest, is detained or is in prison — while in the line of duty, while incentivizing states to do the same.
© 2023 AMERICANS FOR PROSPERITY. ALL RIGHTS RESERVED. | PRIVACY POLICY