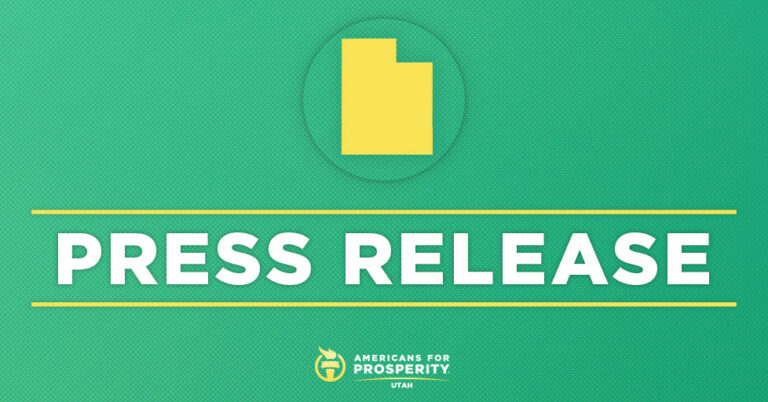 Media Advisory: AFP-UT Hosting Unrig the Economy Event
Event features AFP President Tim Phillips and speakers from Center for Growth and Opportunity, Heritage Foundation
SALT LAKE CITY, UT – Americans for Prosperity-Utah (AFP-UT) today announced it is hosting a forum on corporate welfare and out-of-control spending on Thursday at the AFP-Utah Auditorium. The event is a part of AFP's "Unrig the Economy" campaign, a multiyear, multimillion-dollar effort dedicated to creating a stronger economy by leveling the playing field for all.
The policy discussion will feature Americans for Prosperity President Tim Phillips, Chris Koopman of the Center for Growth and Opportunity, and Romania Boccia from the Heritage Foundation.
WHAT: Unrig the Economy Forum
WHERE: AFP Utah Auditorium
3130 W Maple Loop Drive Lehi, Utah 84043
WHEN: August 22, 2019
6:30 PM – 8:00 PM
RSVP:
Please RSVP to hwilliamson@afphq.org
"Corporate welfare and unsustainable spending are putting our country on a path of reduced long-term growth and opportunity. Not only are future generations going to be burdened with our fiscal irresponsibility, but our tax code is riddled with carve-outs and exemptions for politically favored companies," said Heather Williamson, AFP-UT State Director. "This event will focus on what we can do to create an equal playing field, so every person has an opportunity to achieve their American dream. We are ready to work with anyone who will help prioritize opportunity and fiscal responsibility over government favoritism and reckless spending."
Background:
According to a recent Washington Post/ABC News poll, 62% of Americans said they thought the U.S. economic system mainly benefits those in power versus only 34% who said it mainly benefits all people. Belief that the economy is rigged is a longtime, widespread perception.