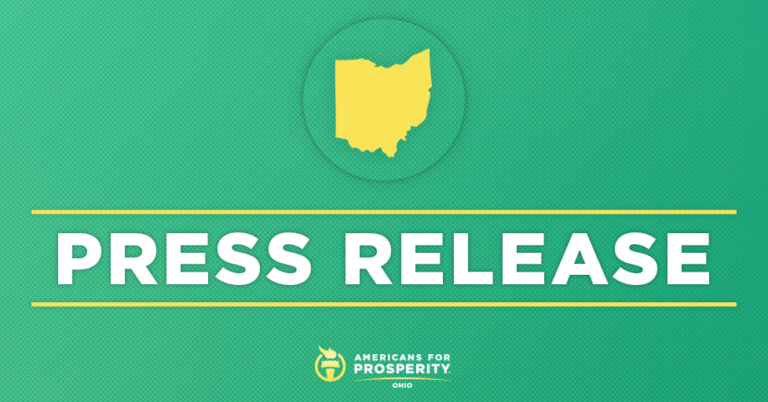 MEDIA ADVISORY: AFP-Ohio, State Rep. Marilyn John Tour District Speaking Against Washington Waste
MANSFIELD, OH – Americans for Prosperity-Ohio announced it is hosting two events this week with state Representative Marilyn John on Washington's latest $4.7 trillion "infrastructure" proposal.
AFP-OH Deputy State Director of Grassroots Operations Kyle Miller issued the following statement:
"Spending $4.7 trillion on tax hikes, infective energy mandates, and a government takeover of health care over actually improving our infrastructure is a path most Ohioans don't want to travel. We look forward to talking with fellow Ohioans about why these trillion-dollar bills are more of a partisan wish list over the necessary reforms that will address our infrastructure issues. Our congressional delegation needs to listen to their constituents and stand up for Ohio families and reject this biggest, partisan spending spree in American history."
WHAT: Infrastructure: Marilyn John Pulls the Pork at DLX
WHEN: August 27th
12:00PM – 1:00PM
WHO: AFP-Ohio, State Representative Marilyn John
WHERE: DLX – Kobacker Room
28 North Main Street Mansfield OH 44902
WHAT: Infrastructure: Marilyn John Talks Pork at Marshall Park
WHEN: August 30
5:30PM-7:00PM
WHO: WHO: AFP-Ohio, State Representative Marilyn John
WHERE: Marshall Park – Band Stand Shell
3375 Milligan Road Ontario OH 44906
Media interested in attending are welcome and interviews with AFP-OH spokespeople and activists will be readily available. RSVP with Kevin Brinegar at kbrinegar@afphq.org.
Background:
In May, Americans for Prosperity launched a campaign, "End Washington Waste: Stop the Spending Spree," to oppose the $4+ trillion combined "infrastructure" package. The campaign has so far produced more than 1.5 million letters to elected officials. The breadth of this campaign should signal to lawmakers that Americans want a better path forward. Instead, AFP has advocated an alternative approach focused on empowers individuals, families, and businesses and rebuilds physical infrastructure by:
Preserving federal dollars for targeted construction projects of a national priority.
Ending the practice of spending gas tax revenues on non-highway projects.
Unleashing private investment in infrastructure assets.
Returning power and responsibility to the states wherever possible.
Overhauling the regulatory and permitting system to modernize infrastructure reviews and reduce project costs.
Eliminating costly and unfair labor restrictions.