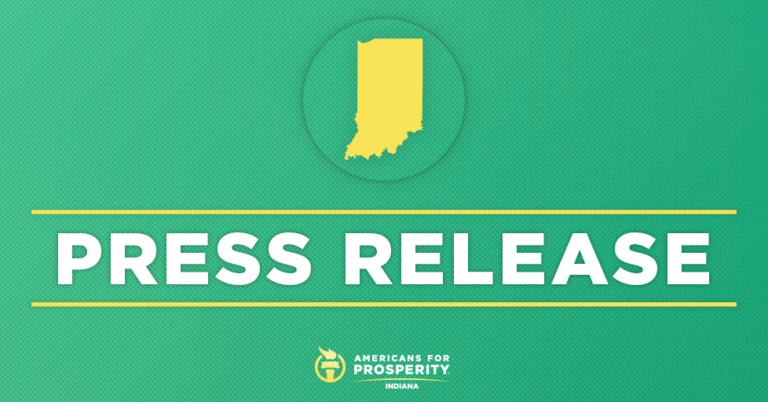 MEDIA ADVISORY: AFP-IN, Indiana Leaders Rally Hoosiers Against Sanders Spending Spree
WEST LAFAYETTE, IN – Americans for Prosperity-Indiana (AFP-IN) is hosting a rally against the Biden-Sanders $4.7 trillion "infrastructure" proposals today. U.S. Senator Mike Braun, Indiana Attorney General Todd Rokita, and Congressman Jim Baird will attend the rally and speak with Hoosiers on why these proposals are bad for families, will hurt the economy, and make it harder to achieve the American dream.
AFP-IN State Director Josh Webb issued the following statement:
"Bernie Sanders is pushing a vast transformation of the size and scope of government, replacing the ingenuity and innovation of the American people with top-down, California-style mandates. $4.7 trillion in deficit spending paid for by historic tax increases that hurt workers and small businesses is a road most Hoosiers do not want to go down.

"We thank Senator Braun, Attorney General Rokita, and Congressman Baird for joining us and talking with Hoosiers about the consequences families and future generations would bear from this monstrosity of a bill. Lawmakers need to prioritize regulatory barriers standing in the way of actually improving our infrastructure instead of ushering in an era of even bigger government, tax increases, and unsustainable debt."
WHAT: Stop the Bernie Sanders Spending Spree
WHO: AFP-Indiana, Senator Mike Braun, Indiana Attorney General Todd Rokita, Congressman Jim Baird
WHEN: Friday, August 27th
3:00PM EST
WHERE: Four Points by Sheraton
1600 Cumberland Avenue
West Lafayette, IN 47906
Media can RSVP by reaching Kevin Brinegar at KBrinegar@afphq.org.
Background:
In May, Americans for Prosperity launched a campaign, "End Washington Waste: Stop the Spending Spree," to oppose the $4+ trillion combined "infrastructure" package. The campaign has so far produced more than 1.5 million letters to elected officials. The breadth of this campaign should signal to lawmakers that Americans want a better path forward. Instead, AFP has advocated an alternative approach focused on empowers individuals, families, and businesses and rebuilds physical infrastructure by:
Preserving federal dollars for targeted construction projects of a national priority.
Ending the practice of spending gas tax revenues on non-highway projects.
Unleashing private investment in infrastructure assets.
Returning power and responsibility to the states wherever possible.
Overhauling the regulatory and permitting system to modernize infrastructure reviews and reduce project costs.
Eliminating costly and unfair labor restrictions.