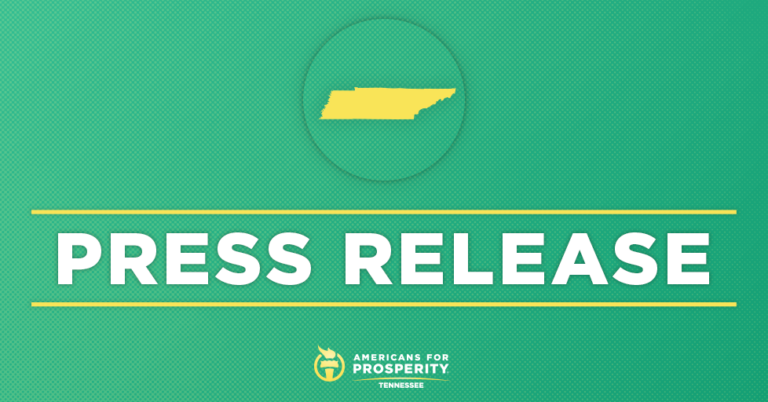 MEDIA ADVISORY: AFP Hosts Facebook Live with Knox County Mayor Glenn Jacobs on Opposing Local and State Bailouts
May 11, 2020 by AFP
KNOXVILLE, TN – Americans for Prosperity-Tennessee (AFP-TN) today announced it will host a Facebook live tomorrow with Knox County Mayor Glenn Jacobs and AFP Regional Director Ryan Black for a conversation on local and state bailouts and why Congress needs to reject attempts to bail out states for years of fiscal irresponsibility.
Recently, AFP launched a national grassroots campaign to mobilize grassroots activists against yet another potential trillion dollar federal spending bill. The grassroots group also recently hosted tele-town halls with U.S. Sens. David Perdue, Ron Johnson, Todd Young and Rick Scott on state bailouts.
What: #RejectBailouts Local and State Bailout Facebook Live
Who: Knox County Mayor Glenn Jacobs
AFP Regional Director Ryan Black
When: May 12, 2020
2:30PM-3:30PM EST
How to Register: All media are invited to attend. Visit AFP's Facebook page here at 2:30PM EST.
AFP-TN State Director Tori Venable issued the following statement:
"Tennessee lawmakers must draw the line in the sand and refuse to punish Tennesseans for years of irresponsible spending by other states. We're proud to have Knox County Mayor Glenn Jacobs help talk about this important issue and how we can ensure taxpayers are not taken advantage of.
"These local and state bailouts won't fix states' fiscal mismanagement. It will only increase reckless spending and the likelihood for more bailouts in the future. We invite all Tennesseans to join us and see how these bailouts will impact Tennessee families."