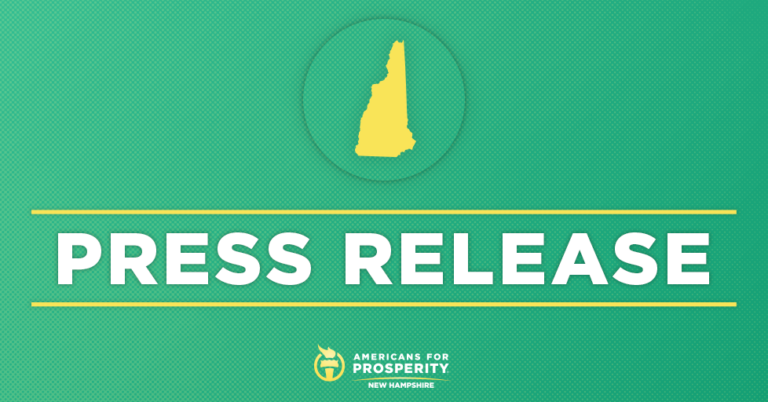 Media Advisory: AFP Hosts Cannabis Reform Coalition Kickoff
Grassroots group and coalition partners look to continue momentum on cannabis reform into upcoming legislative session
MANCHESTER, NH – Americans for Prosperity-New Hampshire (AFP-NH) today announced it is hosting a forum, Manchester Cannabis Reform Coalition Kickoff, that will educate Granite Staters on the need for New Hampshire to improve public safety by legalizing the personal use and sale of cannabis for people over the age of 21.
The forum brings a wide array of organizations and legislators together, featuring speakers from the Marijuana Policy Project, the New Hampshire chapter of the ACLU, and a Republican and Democrat lawmaker.
Americans for Prosperity-New Hampshire Deputy Director Ross Connolly issued the following statement:
"New Hampshire seems like an island of prohibition in a sea of change. It's time to stop making criminals out of the tens of thousands of adult Granite Staters who regularly use a product that's legal in dozens of other places around the country.
"Last legislative session showed that changing the way New Hampshire addresses the adult use of cannabis is a major area of common ground at the State House. We encourage everyone to attend this forum and find out how we can come together to break down barriers and help Granite Staters realize their full potential."
What: Manchester Cannabis Reform Coalition Kickoff
Who: Ross Connolly, Americans for Prosperity-New Hampshire;
Matt Simon, Marijuana Policy Project;
Jeanne Hruska, ACLU-New Hampshire;
Senator John Reagan (R-Deerfield);
Rep. Renny Cushing (D-Hampton)
When: November 21, 2019
Where: Jupiter Hall
89 Hanover St. Manchester, NH 03101
All media are invited to attend. RSVP with Ross Connolly at RConnolly@afphq.org
Background:
AFP-NH believes this policy will improve public safety by starting to eliminate the black market for cannabis and free up law enforcement to focus on protecting communities against more serious threats.
Granite Staters Hear Both Sides at Cannabis Legalization Debate, 3/20/19