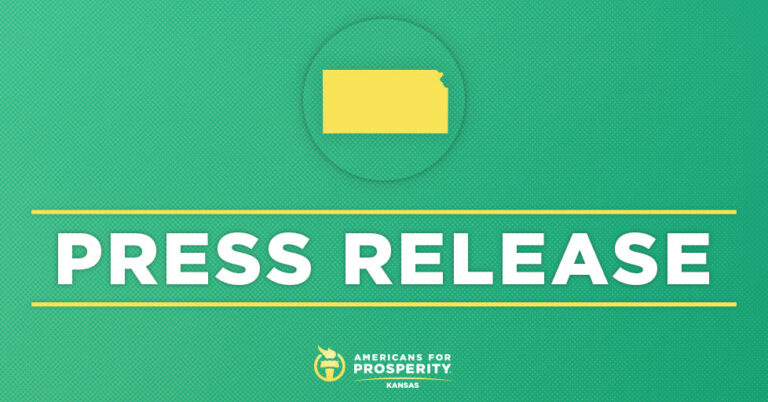 Kansas Coalitions Uniting Together for Educational Freedom
Topeka, Kan. — Today, at the Kansas State Capitol, Americans for Prosperity and their coalition partners held a press conference to discuss transformative policy on educational freedom. The group wants to see families given more options when it comes to education through open enrollment and incentives like Educational Savings Accounts (ESAs) or the Lean Everywhere program.
Statement from Americans for Prosperity-Kansas State Director, Elizabeth Patton:
"We have consistently been in favor of policy which allows families to make decisions regarding their children's education and which will also ensure that Kansas children receive the best opportunity to rise regardless of zip code or circumstance. We want this to be a state where students can see opportunity and actively pursue it with ease."
Statement from Kansas Family Voice Director of Policy & Engagement, Brittany Jones:
"All parents should have the freedom to make the educational decisions that best fit their children. Kansas policy lags behind what Kansas families need. We are excited for the legislature to take up important policies that protect parents right to raise their children in accordance with their beliefs & give all Kansas families freedom to thrive."
Statement from Kansas Policy Institute CEO, Dave Trabert:
"States like Florida and Arizona that have robust choice options have seen huge gains over the years, while achievement declined in Kansas. State assessment results show more high school students below grade level in Kansas than are on track for college and career. That's not a teacher problem; it's a management issue. Choice gives students a fighting chance to be successful in life, and the competition it fosters will benefit all students."
Statement from Kansas State Rep. Kristey Williams:
"School choice empowers parents, improves schools and communities, and elevates Kansas's economic competitiveness. Kansas is better when we recognize and educate students as individuals, with diverse needs, and provide parents educational choice to meet needs that best serve students. It's a pretty simple concept, when we recognize kids over systems, everyone wins."
Statement from Kansas Senator Molly Baumgardner:
"School choice empowers parents. They are the best advocates for the individual needs of their children. That's why it's important to have real options and real opportunities available for Kansas parents when it comes to quality school choices."
Americans for Prosperity is calling on lawmakers in Kansas to take up legislation that will provide these opportunities, so more people have access to quality education than ever before.
###